Book a transfer via
messenger in 2 clicks


Taxi booking
without prepayment!


Support 24/7

Taxi booking without prepayment!
Book a transfer via messenger in 2 clicks

Support 24/7
Transfeer Milan-Cannes takso
Ei ettemaksu! Sularahas maksta! Tasuta tühistamine!
Eratransfeer takso Milanost Cannes'i on võimalik ilma ettemaksuta. Plaanide muutumise korral on võimalik tühistamine ilma igasuguse hüvitiseta. Meie hinnad on nii taskukohased kui võimalik. Pakume teenuseid konkurentsivõimeliste hindadega.
Ettevõtte sõidukipargis on eratransfeer Milanost Cannes'ile erinevaid mudeleid, sh:
Mercedes E-klass;
Mercedes V klass .
Mercedes Sprinter
Autot koos professionaalse juhiga saab broneerida transfeer Milano – Cannes sõnumitooja kaudu või jättes päringu veebilehel.
Takso maksumus Milanist Cannes'i
| Cars Class | | | | Price € |
| --- | --- | --- | --- | --- |
| Economy Sedan | 3 | 3 | | 445€ |
| Economy Mercedes E Class | 3 | 3 | v | 530€ |
| Business Mercedes S Class | 3 | 3 | v | 1100€ |
| Business Mercedes V Class | 7 | 7 | v | 590€ |
| Minivan Mercedes Sprinter | 10 | 11 | v | 705€ |
| Minibus Mercedes Sprinter | 16 | 16 | v | 820€ |
Meie sõidukipark Milano-Cannes takso
Meil on ainult kaasaegsed ja hästi hooldatud sõidukid erinevate klasside eratransfeer Milano-Cannes. Klient saab valida kõrgema mugavustasemega premium-mudelid ja ka suured, turvalised ja kaasaegsed väikebussid.
Teave, mida peate esitama, et broneerida takso Milanost Cannes'ile.
Oleme teinud kõik endast oleneva, et muuta takso tellimine Milanost Cannes'i võimalikult kiireks ja lihtsaks. Selleks, et tellida eratransfeer Milano-Cannes, tuleb teil vaid esitada järgmised andmed:
– Tegelik saabumiskuupäev ja -aeg Malpensa (või aadress Milanos);
– Planeeritud aadress Cannes'is, kus klient soovib peatuda;
– Transporti vajavate inimeste täpne arv;
– Kontaktandmed, mida kasutatakse reisijaga kontakti võtmiseks;
– Isiku nimi, et juht saaks kliendile vastu tulla plakatiga.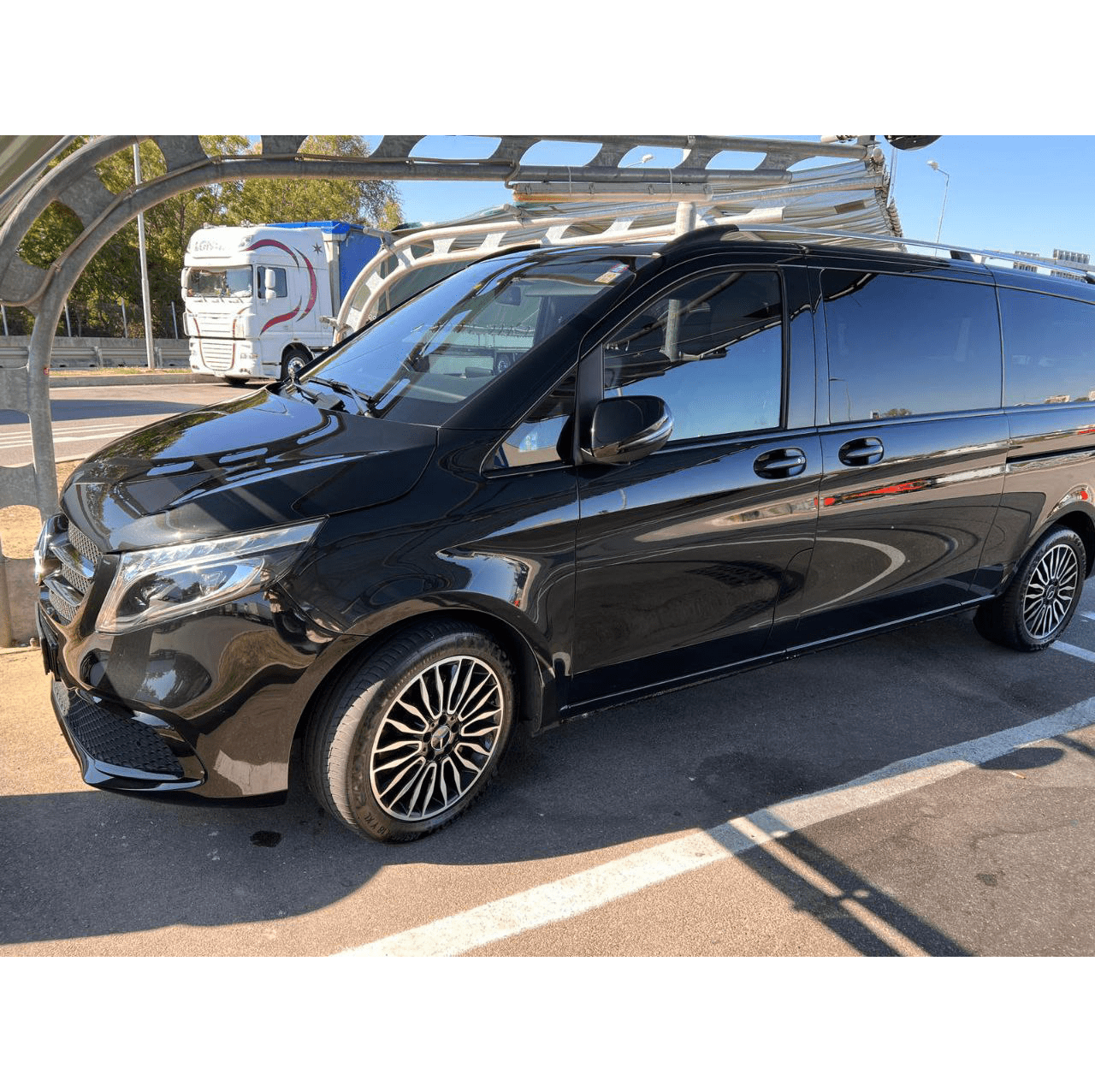 Tasumine transpordi eest Milanost Cannes'i
Meie klientidele pakutakse kõrgetasemelist teenust. Takso broneerimiseks Milanost Cannes'i ei ole vaja teha ettemaksu. Kliendi mugavuse huvides pakume mitmeid makseviise, sealhulgas sularahamakset. Eratransfeeri maksumus Milanost Cannes'ile, mille arvutavad ettevõtte töötajad ja mis võtab juba arvesse juhi ooteaega, kohtumist lennujaamas plakatiga, sõitu läbi suletud, tasuliste teede ja peatuste. Me püüame tagada oma klientidele meeldiva reisikogemuse ja pakume:
– vesi
– ka laste istmed, et hõlbustada mugavuse taset.
– Kui see on tehniliselt võimalik, on kliendile kättesaadav WiFi kogu eratransfeeri ajal Milanost Cannes'isse.
Takso Milanist Cannes'ile
Rahulolu reisiga ei sõltu ainult puhkekohast, heast toidust ja ilmast. Reisi mugavus sõltub ka transpordist. Mida kättesaadavam see on, seda kõrgem on inimese mugavuse tase. Pikad ja kurnavad sõidud lennujaamast sihtkohta võivad rikkuda mulje kohast, kuhu inimene saabub, kulutada palju aega ja põhjustada ootamatuid kulutusi. Taksofirma "Taxitransfermilan", pakub mugavate autodega eratransfeere Milanost Cannes'i. Korraldame transfeer Milano lennujaam – Cannes nii, et klient ei raiska aega ja saab täielikult nautida oma reisi, ilma kõrvalekaldumisteta ettevalmistatud ajakavast ja plaanist.
Meie autojuhid transfeer Milan-Cannes
Ainult kogenud ja meditsiiniliselt kontrollitud sõidukijuhid võivad teostada eratransfeeri Milanost Cannes'i. Enne töötajate palkamist viime läbi range testi. Juhid ei riku kiirusepiiranguid ega tee ohtlikke manöövreid eratransfeeri ajal Milanost Cannes'i. Sõit on turvaline ja lõõgastav.
Cannes'i reisijuht
Cannes on väike, kuid väga kuulus Prantsuse linn. linn on ehitatud ookeani äärde, Cote d'Azurile. Selle ranniku pikkus on umbes 10 kilomeetrit;**Must vt. vaatamisväärsused Cannes'is.**Katsuge Cannes'is iidseid kirikuid Notre-Dame-de-l-Esperance ja Notre-Dame-de-Bon-Voyage, samuti 19. sajandil ehitatud õigeusu peaingel Miikaeli kirikut.*Mitte kaugel Cannes'ist on kaks saart – Sainte-Marguerite ja Saint-Honore. Neile pääseb merejaamast praamitransfeeriga või veetaksoga. Sainte-Marguerite'i saarel asub iidne kindlus Fort Royal, mis hiljem muudeti vanglaks.*Legendid räägivad, et siin hoiti kurjategijat, kelle hüüdnimeks oli "Raudne mask". Siis kirjutati sellest kangelasest palju raamatuid ja võeti maha palju raamatuid. Naabersaarel, Saint-Honore'il, asub klooster, mis ehitati 5. sajandil. Üllataval kombel tegutseb see ikka veel, mungad elavad seal endiselt. Mida saab Cannes'is veel näha? Kahtlemata Pierre Cardini villa. See hoone on valmistatud plastist ja koosneb 28 ovaalsest toast. See objekt ei jää alla teistele võimalikele objektidele Milanos ja New Yorgis. samuti muuseumid Pablo Picasso muuseum, Museum de la Castre, Museum of the Sea. Võite võtta takso ja sõita mööda rannikut, külastades muuseume Nizzas, Monacos, Saint Tropez'is, Milanos. kõik teavad, et Cannes'is toimub igal aastal filmifestival, mis toob kokku staarid kogu maailmast. Just siin, telekaamerate välkude all, debiilivad nad mööda punast vaipa. selle ürituse peamised sündmused toimuvad nn Palais des Festivals'is. Ja mitte kaugel palatist asub Hollywoodi sarnane Tähtede avenüü. Siia on paljud filmitegelased jätnud oma peopesade jäljed. tuleb märkida, et Cannes'is toimuvad ka teised olulised sündmused – Cannes Lions reklaamifestival ja hämmastavalt ilus ilutulestikufestival. ja muidugi šoppamine, peaaegu nagu Milanos.
Kuidas toimub eratransfeer Milanost Cannes'isse
Meie juht saabub Malpensa lennujaama ette ja ootab erilise plakatiga takso Milanost Cannes'i tellinud isikut. Pärast kohtumist taksojuhiga viib ta reisija autosse ja aitab vajadusel pagasiga. Kui kliendil on vaja teel peatuda, täidab taksojuht selle soovi. Sõit kestab umbes 4 tundi.
Reisi tühistamine Milanost Cannes'i
Kõik võib juhtuda ja planeeritud eratransfeer Milanost Cannes'i võib ära jääda. Kasutades meie teenust, ei pea klient maksma tühistamistasu. Me ei taha jätta kliendile negatiivset muljet.