Private Transfer in Milan
Private Transfer in Milan

Book a transfer via
messenger in 2 clicks


Taxi booking
without prepayment!


Support 24/7

Taxi booking without prepayment!
Book a transfer via messenger in 2 clicks

Support 24/7
BOOK TRANSFER FROM/TO MILAN RIGHT NOW
Transfer & Taxi in Milan No prepayment! Cash pay! Free cancellation!

From Milano airports you can also reach ski resorts of Italy, France and Switzerland. Ports of Genova and Savona, lakes Como, Garda and Maggiore, or make a transfer between Malpensa, Bergamo and Linate.
Our company provides those services too.
Popular destinations from Milan
| | |
| --- | --- |
| Malpensa Airport - Milan | from € 80 |
| Bergamo Airport - Milan | from € 90 |
| Malpensa - Bergamo | from € 120 |
| Milan - Bellagio | from € 120 |
| Milan - Bologna | from € 320 |
| Milan - Como | from € 100 |
| Milan - Lugano | from € 130 |
How to order a taxi in Milan
To order a transfer in Milan you can use our contact form. Fill in your phone number and our operator will contact you via a messenger in a couple of minutes to proceed with further information.
Also to make an online taxi order in Milan you can use our WhatsApp directly. Using WhatsApp order you can mention your car preferences, check the exact price just in a couple of minutes and make any changes in your order if needed.
It is fast and useful.
In a couple of minutes our operator will send you back all the information about your car and price.
Also please, do not hesitate to ask us if you have any questions about our service in Milan! We are working to offer you an exceptional level of service and comfort during your trip on a transfer in Milan and its surroundings!
To make an online transfer order in Milan, please, provide us with the following information:
Your name or the name of the Company - for the sign;
Your flight number;
Your arrival date in Milan and time;
Destination address;
Exact number of persons;
If there are children - please, mention if you need a baby seat;
How to pay for your transfer
Ordering a transfer in Milan in our company you can pay for it directly to the driver.
No advanced payments needed. Cancellation of the order is free.
Price of the transfer from Malpensa airport to Milan is fixed - all the information about the price you will receive from our operator.
We also take care of all the tolls on the way: it is already included to the price of transfer. So you do not have to worry about anything else when ordered a taxi in Milan with us.
What else do the prices include:
Trip directly to the destination point in Milan;
Personal meeting at the airport Milan Malpensa with a sign with your name on it;
Baby seat upon request;
Complimentary bottled water;
Free Wi-Fi access;
All tolls are already included to the price. No extra payments.
Choosing our company you choose comfort, quality and reliability.
| Cars Class | | | | Price € |
| --- | --- | --- | --- | --- |
| Economy Sedan | 3 | 3 | | 80€ |
| Economy Mercedes E Class | 3 | 3 | v | 90€ |
| Business Mercedes S Class | 3 | 3 | v | 120€ |
| Business Mercedes V Class | 7 | 7 | v | 100€ |
| Minivan Mercedes Sprinter | 10 | 11 | v | 130€ |
| Minibus Mercedes Sprinter | 16 | 16 | v | 160€ |
Transfer from Malpensa to Genova and Savona ports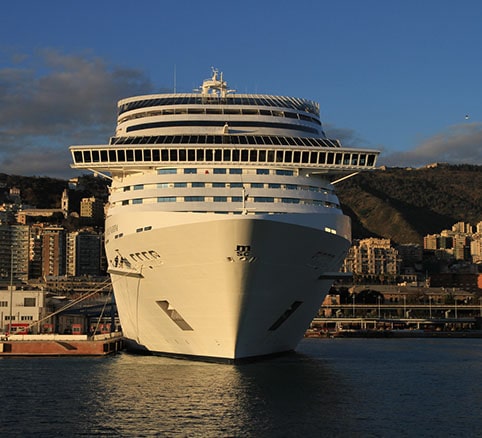 The most attractive and famous ports of Apennine peninsula are situated in Genova and Savona. Those beautiful cities are about 200km away from Milan Malpensa airport by taxi, so we offer a private transfer from Malpensa airport to Genova port and from airport to Savona port.
Our professional drivers will meet you at the Milan Malpensa airport with a sign, help you with your belongings and take care of your comfort during the trip.
To take a taxi from Milan to Genova port is much more convenient than taking a shuttle. Just imagine: no public transport timetable and peace and quiet car only for you, possibility to make a stop whenever you want to use a bathroom or stretch your legs and have a cup of coffee during the way. The same is for taxi from Milan – to Savona – as it is situated a bit further than Genova port.
As an extra opportunity our transfer Milan Genova port or Milan Savona port can also make a stop at Serravalle outlet on the way back to Milan or Malpensa airport. Serravalle outlet is situated right on the way to Milan.
Choosing our service as transfer from Milano to Genova port or Savona port – you choose comfort. And we gladly provide it: there are only polite and professional drivers for your safety, comfort and service.
Taxi from Milan to lake Garda, lake Como, lake Maggiore
From Milan you can easily reach such beautiful spots and resorts as lake Como by taxi. We also provide transfers to lake Garda and lake Maggiore.
Which transfer from Milan Malpensa airport do we offer:
 lake Como
 lake Garda
lake Maggiore
transfer from Bergamo to Como
from Bergamo to Garda
transfer from Bergamo to Maggiore
taxi Malpensa – Como
It will take you an hour to get on taxi from Milan Malpensa airport to Como (53km), 2 hours from Malpensa to Lake Garda (Malcesine) (180km)  and 1 hour (55km) to lago Maggiore.
From Bergamo to lake Garda it'll take you 1 hour (110km), Bergamo – lake Maggiore (132km) and Bergamo – lake Como (70km) – nearly 1,5 – 2 hours each.
Making an order for a transfer from Milano airport to lake Como you'll definitely spend those hours in comfort of our taxi service.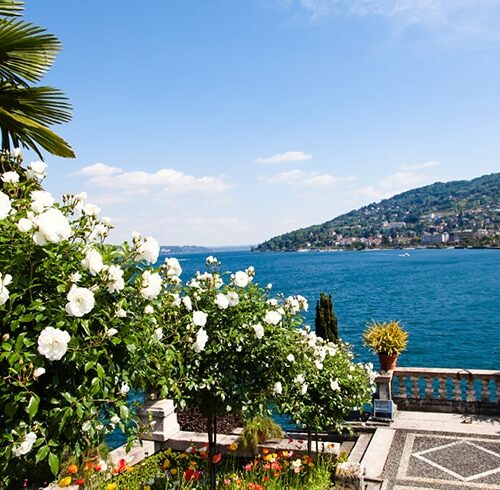 Taxi and transfer to Serravalle and FoxTown outlets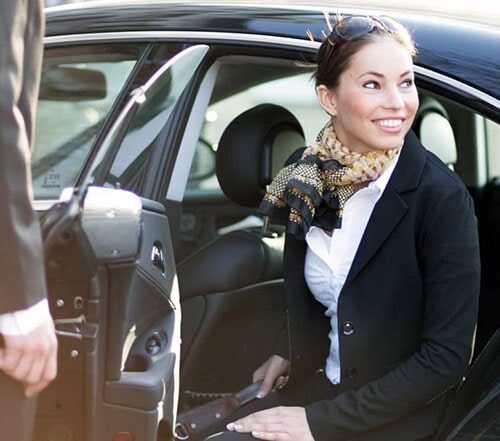 What can be better than having a great shopping in Milan – one of the most stylish cities in Europe? And we are ready to take care of a perfect Milan shopping day!                     We provide private transfers from Milan to the following shopping spots:
Serravalle,
FoxTown,
Dolce & Gabbana outlet transfer,
Vicolungo outlet,
Fidenza Village ,
MaxMara outlet transfer,
Fratelli Rosetti ,
Franciacorta .
Our professional and polite drivers will meet you at the hotel in Milan or apartment door, take you to the outlet and wait there for 6 hours. Plus they will help with carrying your bags to the car. After a long and tiring shopping day our special "Serravalle taxi" service will carefully take you back to Milan – to the doors of your hotel/apt.
Price for the taxi Milan – Serravalle (or any other outlet) with 6 hours of waiting included – starts from € 250.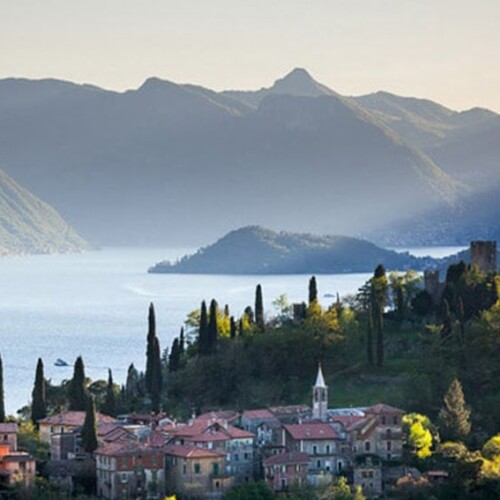 SHORTLY ABOUT US
Our Mission Statement
We warrant you privacy and quality of the delivered services. All the car are equipped with safety and mobile communications devices.
Our driver will meet you in Milan Malpensa airport at the exit from Customs zone holding a plate with your name, he will help you to carry your luggage to the car.
The drivers are always super sweet and smiling. Plus I get bonuses each time I use this company's services which is so cool…
As their loyal customer I have already collected quite a big deal of bonuses that can cover a few rides with this company…
Love this taxi company and I use their services as often as it's possible. Thank you guys for always being so quick and helpful…
FROM THE BLOG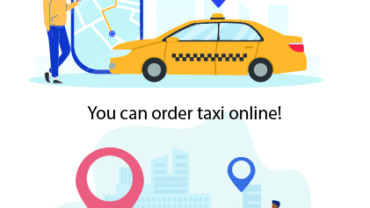 PUBLIC TAXI IN MILAN Taxis are undoubtedly the fastest and most convenient way, available at any time of the day or night, allowing tourists to reach any part of the city and for those on business, you can get to…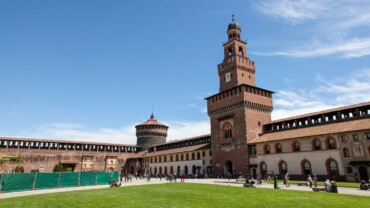 What to see in Milan Milan is considered to be an industrial conglomerate, but it is also rich in monuments of architecture and art. The article tells interesting stories about such city attractions as the Duomo Cathedral, the Church of…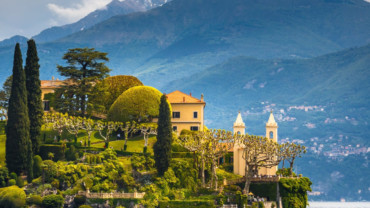 Excursion to Como. What to see in 2 days The first day in Como Lake The first thing to do when arriving in Como is to go to the promenade. It offers a beautiful view of the lake and the…
Popular transfer from Milan