Private Transfer in Milan
Private Transfer in Milan

Book a transfer via
messenger in 2 clicks


Taxi booking
without prepayment!


Support 24/7

Taxi booking without prepayment!
Book a transfer via messenger in 2 clicks

Support 24/7
Transfer from Milan to Zermatt
No prepayment! Cash pay! Free cancellation!
Private transfer from Milan to Zermatt is possible without any prepayment. In case of changes of plans a cancellation without any compensation is possible. Our prices are as affordable as it can be. We offer services at the competitive rates.
The company's fleet of vehicles for private transfer from Milan to Zermatt includes a variety of models, including:
Mercedes E class;
Mercedes V class .
Mercedes Sprinter
You can book a car with a professional driver for transfer Milan — Zermatt via messenger or by leaving a request on the website.
Cost of a private transfer from MIlan to Zermatt
| Cars Class | | | | Price € |
| --- | --- | --- | --- | --- |
| Economy Sedan | 3 | 3 | | 300€ |
| Economy Mercedes E Class | 3 | 3 | v | 340€ |
| Business Mercedes S Class | 3 | 3 | v | 600€ |
| Business Mercedes V Class | 7 | 7 | v | 360€ |
| Minivan Mercedes Sprinter | 10 | 11 | v | 400€ |
| Minibus Mercedes Sprinter | 16 | 16 | v | 490€ |
Our fleet of vehicles for Milan—Zermatt taxi
We have only modern and well-maintained vehicles of various classes for private transfer from Milan to Zermatt. The client can choose premium models with an increased level of comfort and also large, safe, modern minibuses.
Information you need to provide in order to reserve a taxi to Zermatt from Milan
We have done all we can to make ordering a taxi from Milan to Zermatt as quick and easy as possible. To order a private transfer Milan—Zermatt, all you need to do is provide the following information:
Actual date and time of arrival in Malpensa (or adress in Milan);
Planned address in Zermatt where the customer wants to stay;
Exact number of people that need transportation;
Contact information that will be used to get in touch with the passenger;
Name of the person so that the driver can meet the client with a placard.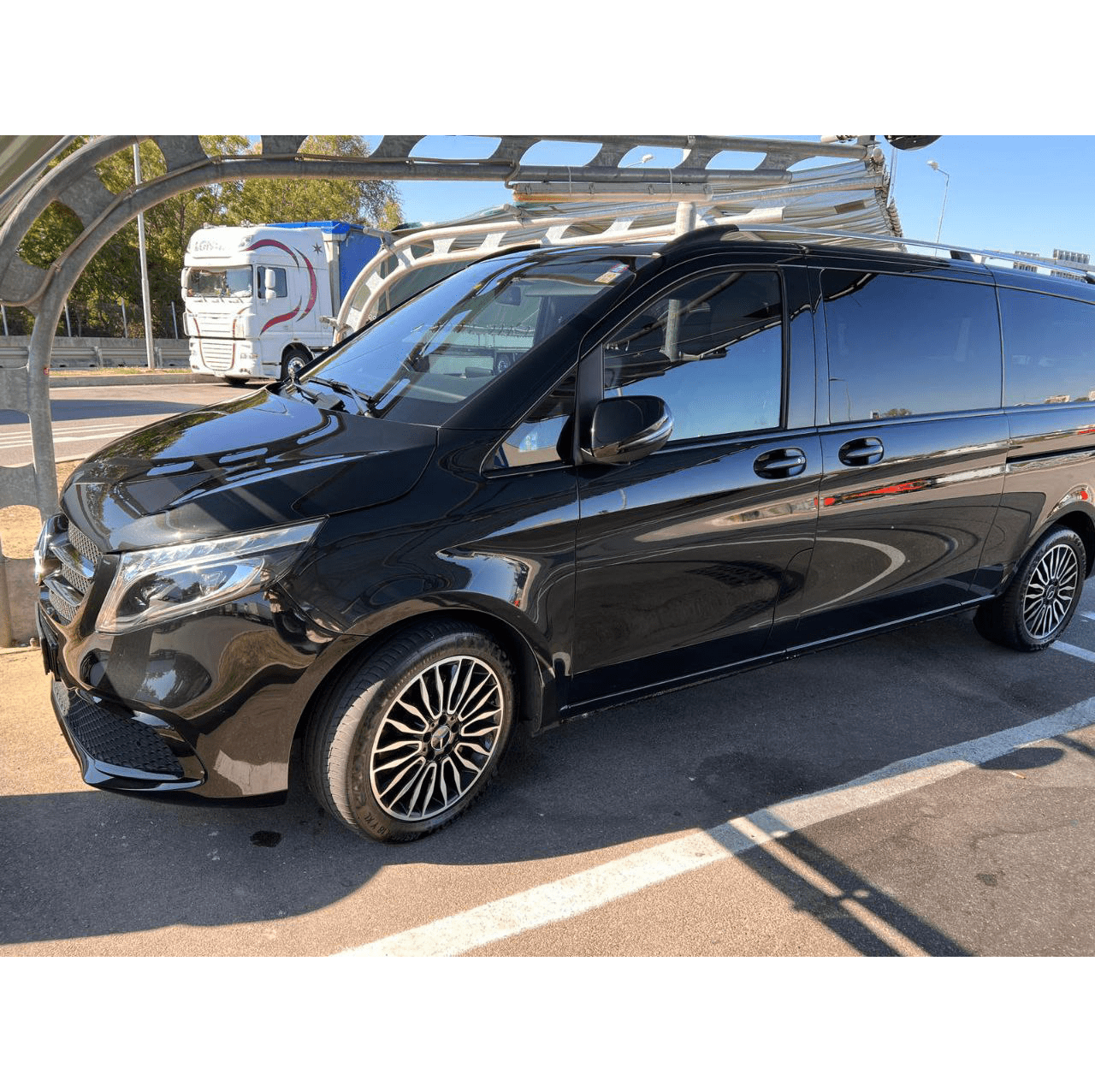 Zermatt Ski Resort Info Guide
Info Zermatt is located in the Visp Valley, surrounded by the peaks of the Main Alps. Very close, behind one mountain pass, are the Italian resorts – Valtournenche and Broy-Cervinia.  Its symbol is the Matterhorn peak, which people from different countries come to see. Another interesting feature of Zermatt is that movement here is only allowed on horse-drawn transfer and electric taxi.
Resort infrastructure. There are two ski areas in Zermatt – Triftya (the northern slope of the ridge, more difficult) and Klein Matterhorn (southern, designed for less experienced athletes). By the way, riding from the second, it is quite possible to cross the border and end up in Italy, which will not look like a crime at all. But it is worth remembering that the lifts that will take you back to Switzerland do not work after 15:00. Therefore, you should take care of a transfer or a taxi in advance.
There are other ways to spend your leisure time here. For example, only in this resort there are about 170 bars and restaurants (along with four dozen delicious mountain restaurants), at least ten discos and casinos. It is worth taking a ride along the Alpine railway to the top of Mount Gornergrat (height is more than three thousand meters!) The cost of such a ticket is only 40 euros. Of course, it is impossible not to visit the sports complex with wonderful swimming pools, saunas, a tennis court and the Alpine Museum, where you can learn a lot of interesting things.
The nearest airport to Zermatt. 
Milan Malpensa Airport – 168 km.
Milan Linate Airport – 224 km.
Orio al Serio (Bergamo, Milan) – 248 km.
Payment for transfer from Milan to Zermatt
Our customers are offered a high level of service. No advance payment is required to reserve a taxi from Milan to Zermatt. For the client's convenience, we offer several payment methods, including cash payment. The cost of a private transfer from Milan to Zermatt, calculated by the company's employees, and already takes into consideration the driver's waiting time, meeting at the airport with a placard, driving through closed, toll roads and stops. We strive to ensure that our customers have a pleasant travel experience and we provide:
water
also child seats to facilitate the level of comfort.
If technically possible, WiFi is available for the customer throughout the private transfer from Milan to Zermatt
Taxi from Milan to Zermatt
Satisfaction with a trip doesn't just depend on the resting place, the good food and the weather. Travel comfort also depends on transport. The more accessible it is, the higher a person's level of comfort is. Long and exhausting journeys from the airport to the destination can spoil the impression of the place a person arrives to, consume much time and cause unexpected expenses. The taxi company "Taxitransfermilan", offers a private transfer from Milan  to Zermatt in comfortable cars. We organized the transfer Milan airport — Zermatt in such a way that the client does not waste time and can fully enjoy his/her trip, without deviations from the prepared schedule and plan.
Our drivers for transfer Milan—Zermatt
Only experienced and medically-inspected drivers are allowed to carrying out the private transfer from Milan to Zermatt. We carry out a rigorous test before hiring employees. Drivers will not break speed limits or make dangerous manoeuvres during private transfer from Milan to Zermatt. The journey will be safe and relaxing.
How the private transfer from Milan to Zermatt is carried out
Our driver arrives at the airport Malpensa in advance and waits for the a person who ordered the taxi from Milan to Zermatt with a special placard. After the meeting with the taxi driver, he will take the passenger to the car and, if necessary, will help with the luggage. If the customer needs to stop on the way, the driver will carry out the request. The transfer will takes about 3 hours.
Cancellation of the trip from Milan to Zermatt
Anything can happen and a planned private transfer from Milan to Zermatt can be cancelled. By using our service, the customer does not have to pay a cancellation fee. We do not want to leave a negative impression on the client.
Unexpected situations and flight delays
Sometimes, the flight may be delayed. This is normal and our driver is prepared to wait as long as necessary for client who ordered the private transfer from Milan to  Zermatt. There is no charge for the waiting time. The driver of taxi from Milan to Zermatt will arrive at the airport according to the information provided by airport information desk to carrying out transfer from Milan to Zermatt.
What fees are charged for waiting by the driver
There are no additional waiting fees. Our driver of taxi Milan—Zermatt will wait for your private transfer from Milan to Zermatt without any extra costs.