Private transfer from Milan to Sankt-Moritz
Transfer from Milan airport to Sankt-Moritz can be ordered on our resource without prepayment. A english-speaking driver will be able to meet you at the Milan airport and take you to one of the Sankt-Moritz. You can order a taxi on Mercedes V class cars, which can accommodate 7 passengers and all ski equipment.
How to book a taxi from Milan to Sankt-Moritz
Taxi from Milan Malpensa airport to Sankt-Moritz can be ordered on our online service. To book a transfer, just send a message to watsup or email. Our manager will contact you and suggest car options. You can choose a transfer by Mercedes E class or minivan Mercedes V class. No prepayment!
The application must indicate:
date and time of arrival in Milan
flight number
name for plate
number of persons
hotel in Sankt-Moritz
Taxi fare from Milan Malpensa to Sankt-Moritz
The cost of a transfer from MIlan airport to Sankt-Moritz already includes the necessary services:
necessary stops
waiting time
availability of Wi-Fi;
water in the cabin
child seat for car
The cost of the transfer to Sankt-Moritz from Milan will not increase on the way. We check all flights on the online scoreboard. Therefore, if the flight is delayed, the driver will know in advance.
About our cars
A wide range of cars for travel from Milan to Sankt-Moritz (business class, economy, standard, premium, minivans, minibuses) for any budget.
By ordering a private transfer by taxi from Milan to Sankt-Moritz, the following transport can be provided:
Mercedes E class for 3 passengers
Mercedes V class for 7 passengers
Mercedes Sprinter for 9 and 16 passengers.
All cars have excellent technical equipment and are tested on winter roads. That is why they have good handling on bends and slippery roads. All vehicles are under five years old.
Roof racks of our mimivans are suitable for any size. You can take with you to Livigno everything you need for a winter holiday or sports, while saving on rent. In the luggage compartments there are special devices for supporting ski trunks while the car is moving. Thanks to this, the ski equipment will be securely fixed.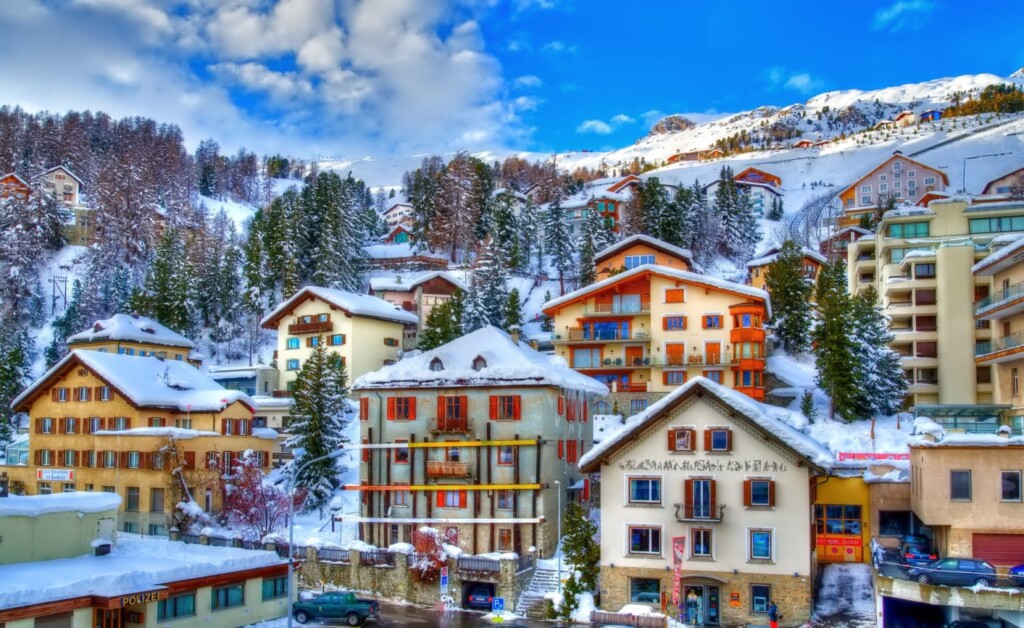 About Sankt-Moritz
The Swiss ski resort of Sank Moritz rightfully calls itself one of the luxurious resorts, where chic, excess and beauty are a common, everyday thing. Expensive cars, fashionable boutiques with the latest collections of world brands that appear in Sankt-Moritz on display windows earlier than in London and Milan, auctions where antique precious jewelry fly away at cosmic prices.
Restaurants in Sankt-Moritz
For the most pampered culinary gourmets, Sank Moritz is home to sixty restaurants with incredible gourmet cuisines, led by Italian, French, Asian and Mediterranean. Alcohol lovers will also be satisfied, because it is in Sankt-Moritz that the world's largest whiskey bar is located, in whose power to soften the heart and soul of any visitor. But what about without a sweet? Grand Restaurant is famous for incredibly tasty desserts, in which there is always a perfect balance of flavors that can revive a child's love for sweets, even among inveterate opponents of sugar.
Sankt-Moritz hotels have chic interiors to match their guests: marble columns, silk wall decorations, inlaid furniture and authentic works of art. While in the warm mineral pool with a picturesque view of the valley, you can forget that the purpose of the trip is skiing.
Pontresina
For those looking to take a break from luxury and get some peace of mind, there is an ideal alternative of Sankt-Moritz is Pontresina. It is just six kilometers from the bustling Sankt – Moritz. You can get there from Sankt-Moritz by taxi or order a transfer. Of course, Pontresina has boutiques, restaurants, bars and hotels. The most famous resort hotel is the Grand Hotel Kronenbof with its own impeccable park, a golf course, a three-level wine cellar with a chic collection of the rarest wines, an incredible spa, where, after spending the whole day, you may not meet other hotel guests. Massages with rose oil and underwater music in a large hotel will be the necessary balm for the body and soul. Sankt-Moritz is possibly one of the oldest places on the planet where people experienced the healing properties of mineral waters.
Ski slopes in Sankt-Moritz
Sankt-Moritz is visited by up to one and a half million tourists a year who want to enjoy the most beautiful landscapes and experience the snowy mountain slopes 1,800 meters above sea level. The length of the tracks in Sankt-Moritzis more than 350 km, and the height of the slopes reaches 3300 m. Sankt-Moritz is also famous for being twice awarded to host the Winter Olympics in 1928 and 1948. There is the longest bobsleigh track in Europe – 1214 meters with drops of up to 157 meters, on which anyone can ride with an instructor and get a cool boost of energy and impressions at a speed of 135 kilometers per hour. The sun shines in Sankt-Moritz 322 days a year, so the air here is dry and cold, which is why the resort has acquired the expression "champagne climate".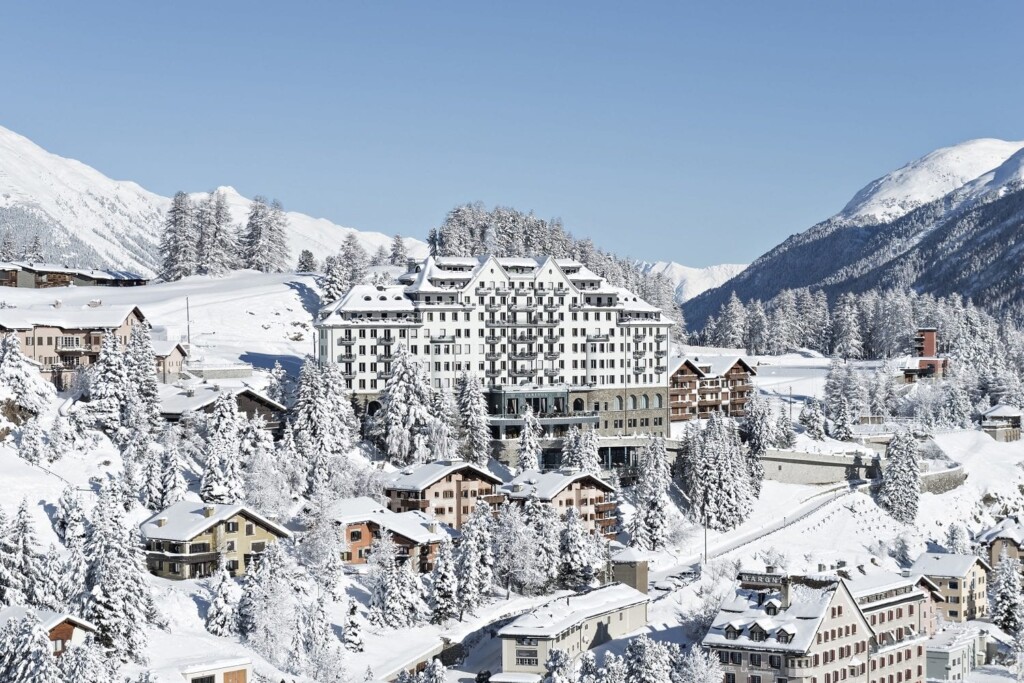 Advantages of the transfer from Milan to Sankt Moritz by taxi:
1. We meet you with a sign right at the airport (this will save you a lot of time searching for your bus or train);
2. We do not have an advance payment (we work only for cash payment for a taxi trip);
3. All our drivers are english – speaking, so you won't need to worry about the language barrier. You can ask any questions you are interested in and be sure that you will be understood and safely taken to the ski resort by taxi from Milan to Sankt-Moritz.
4.You can choose when and where you want to stop, the number of stops does not affect the cost of a taxi to Sankt-Moritz from Milan;
Transfer to Sankt-Moritz from Milan Malpensa airport by car takes much less time than a transfer by train or bus.
SHORTLY ABOUT US
Our Mission Statement
We warrant you privacy and quality of the delivered services. All the car are equipped with safety and mobile communications devices.
Our driver will meet you in Milan Malpensa airport at the exit from Customs zone holding a plate with your name, he will help you to carry your luggage to the car.
The drivers are always super sweet and smiling. Plus I get bonuses each time I use this company's services which is so cool…
As their loyal customer I have already collected quite a big deal of bonuses that can cover a few rides with this company…
Love this taxi company and I use their services as often as it's possible. Thank you guys for always being so quick and helpful…
FROM THE BLOG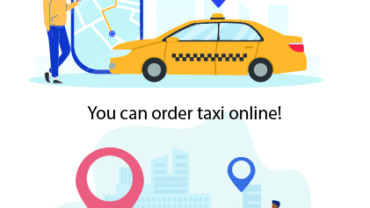 PUBLIC TAXI IN MILAN Taxis are undoubtedly the fastest and most convenient way, available at any time of the day or night, allowing tourists to reach any part of the city and for those on business, you can get to…