Private Transfer in Milan
Private Transfer in Milan

Book a transfer via
messenger in 2 clicks


Taxi booking
without prepayment!


Support 24/7

Taxi booking without prepayment!
Book a transfer via messenger in 2 clicks

Support 24/7
Transfer from Milan to Albenga
No prepayment! Cash pay! Free cancellation!
We suggest you book a private transfer from Milan to Albenga with an English speaking driver. The trip is carried out in sedan cars and in Mercedes V class and Mercedes Sprinter minivans. You can order an individual transfer without prepayment and without registration, send a request to watsup.
How to book a transfer from Milan to Genoa?
To book an online transfer to Genoa from Milan, please, provide us with the following information:
Your name 
Your adress in Milan;
Your arrival date and time;
Destination address in Genoa;
Exact number of persons;
If there are children – please, mention if you need a baby seat;
When booking a taxi from Milan to Genoa, you do not need to make a prepayment. 100% of the trip cost can be paid to the driver.
How to pay for your transfer
Ordering a transfer in Milan in our company you can pay for it directly to the driver.
No advanced payments needed. Cancellation of the order is free.
Price of the transfer is fixed - all the information about the price you will receive from our operator.
We also take care of all the tolls on the way: it is already included to the price of the transfer. So you do not have to worry about anything else when ordered a taxi in Milan with us.
What else do the prices include:
Trip directly to the destination point;
Personal meeting at the Milan airport with a sign with your name on it;
Baby seat upon request;
Complimentary bottled water;
Free Wi-Fi access;
All tolls are already included to the price. No extra payments.
Choosing transfer in our company you choose comfort, quality and reliability.
Why you need to order a taxi from Milan to Genoa
Many tourists wishing to get to Genoa arrive at Milan Malpensa International Airport. The fastest way to get from Malpensa Airport to Genoa is by booking a private transfer or taxi. Because there are not directli coonections from Milan Malpensa to Genoa.  And if you are arriving at Malpensa airport, then you will have to go to the center of Milan to take the train to Genoa.
Distance from Milan to Genoa – 145 ksm.
Distances from Malpensa airport to Genoa – 187 km.
What cities will we pass by taxi from Milan to Albenga
The transfer from Milan to Albenga will go along the A 7. On the way we will pass the cities – Rozano, Tortona. Also Scrivia – the place where the famous outlet is located. It will be possible to come here by the road from Milan or on the way back. In addition, we will drive through the national parks of della Mura and Staglieno.
Transfer to Albenga from Milan
If you need to get to Albenga as soon as possible from Milan airport, then the most reliable way to get there is to book a taxi in advance and meet with a sign at Malpensa airport. Thus, you will not waste time looking for an airport transfer. Our driver will meet you at the arrivals hall and immediately go to Albenga. The journey will take approximately 3,5 hours.
Our driver will enter the port area and drive you to the ship as close as possible. Therefore, you do not have to walk with heavy suitcases throughout the port.
Private Transfer from Albenga Port to Milan
If you are planning to travel from Albenga back to Milan or Malpensa airport, you can also book your private transfer in advance. Our driver will wait for you at the appointed time in the port of Genoa for as long as necessary. And then it will take you to Milan or Malpensa airport.
Waiting time in Albenga – for free!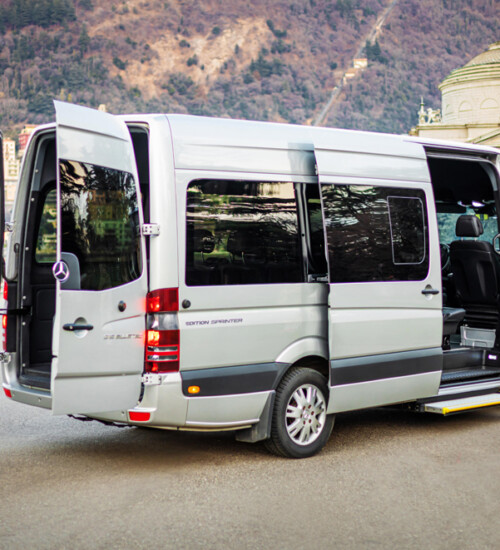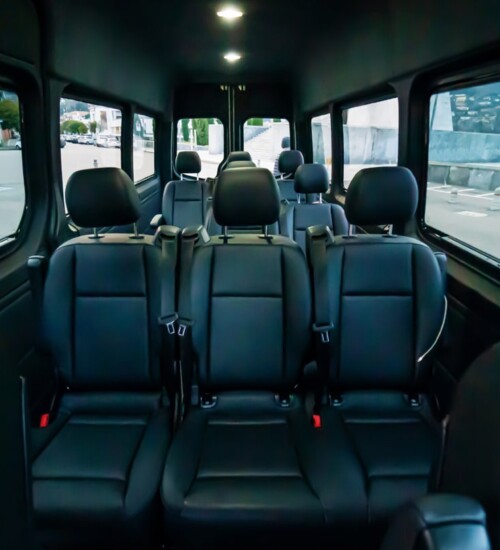 Our car park
The choice of a car for a transfer from Milan to Albenga depends on the number of people, as well as on your preferences.
Mercedes V class
Mercedes V class minivan is suitable for a group of passengers of more than 3 people. There are 7 passenger seats and a spacious trunk for your luggage.
Mercedes Sprinter
Minibuses Mercedes Sprinter are suitable for large groups of up to 11 passengers.  There are child seats, Wi-Fi, phone chargers, etc. By choosing a comfortable Mercedes Sprinter, your taxi ride from Milan to Albenga will be safe and comfortable.
All of our vehicles are thoroughly tested before every trip. Therefore, your transfer from Milan to Albenga will be safe.