Privatus pervežimas Milane
Privatus pervežimas Milane

Book a transfer via
messenger in 2 clicks


Taxi booking
without prepayment!


Support 24/7

Taxi booking without prepayment!
Book a transfer via messenger in 2 clicks

Support 24/7
Taksi pervežimas iš Milano į Cannes
Jokio išankstinio mokėjimo! Mokėkite grynaisiais pinigais! Nemokamas atšaukimas!
Privatus pervežimas taksi iš Milano į Kanus galimas be išankstinio apmokėjimo. Pasikeitus planams galimas atšaukimas be jokios kompensacijos. Mūsų kainos yra tokios prieinamos, kokios tik gali būti. Siūlome paslaugas konkurencingomis kainomis.
Įmonės privačiam pervežimui iš Milano į Kanus skirtų transporto priemonių parką sudaro įvairių modelių automobiliai, įskaitant:
Mercedes E klasė;
V klasės "Mercedes" .
Mercedes Sprinter
Automobilį su profesionaliu vairuotoju pervežimui Milanas – Kanai galite užsisakyti per pasiuntinį arba palikdami užklausą svetainėje
Taksi kaina iš Milano į Kanus
| Cars Class | | | | Price € |
| --- | --- | --- | --- | --- |
| Economy Sedan | 3 | 3 | | 445€ |
| Economy Mercedes E Class | 3 | 3 | v | 530€ |
| Business Mercedes S Class | 3 | 3 | v | 1100€ |
| Business Mercedes V Class | 7 | 7 | v | 590€ |
| Minivan Mercedes Sprinter | 10 | 11 | v | 705€ |
| Minibus Mercedes Sprinter | 16 | 16 | v | 820€ |
Mūsų transporto priemonių parkas taksi Milanas-Kanai
Turime tik modernius ir gerai prižiūrimus įvairių klasių automobilius privačiam pervežimui iš Milano į Kanus. Klientas gali rinktis aukščiausios klasės modelius, pasižyminčius didesniu komforto lygiu, taip pat didelius, saugius, modernius mikroautobusus.
Informacija, kurią reikia pateikti norint užsisakyti taksi į Kanus iš Milano
Padarėme viską, ką galime, kad taksi iš Milano į Kanus užsakymas būtų kuo greitesnis ir paprastesnis. Norėdami užsisakyti privatų pervežimą Milanas-Kanai, jums tereikia pateikti šią informaciją:
– faktinę atvykimo į Malpensą (arba adresą Milane) datą ir laiką;
– planuojamą adresą Kanuose, kur klientas nori apsistoti;
– tikslų žmonių, kuriuos reikia pervežti, skaičių;
– kontaktinę informaciją, kuri bus naudojama susisiekti su keleiviu;
– Asmens vardas ir pavardė, kad vairuotojas galėtų pasitikti klientą su lentele.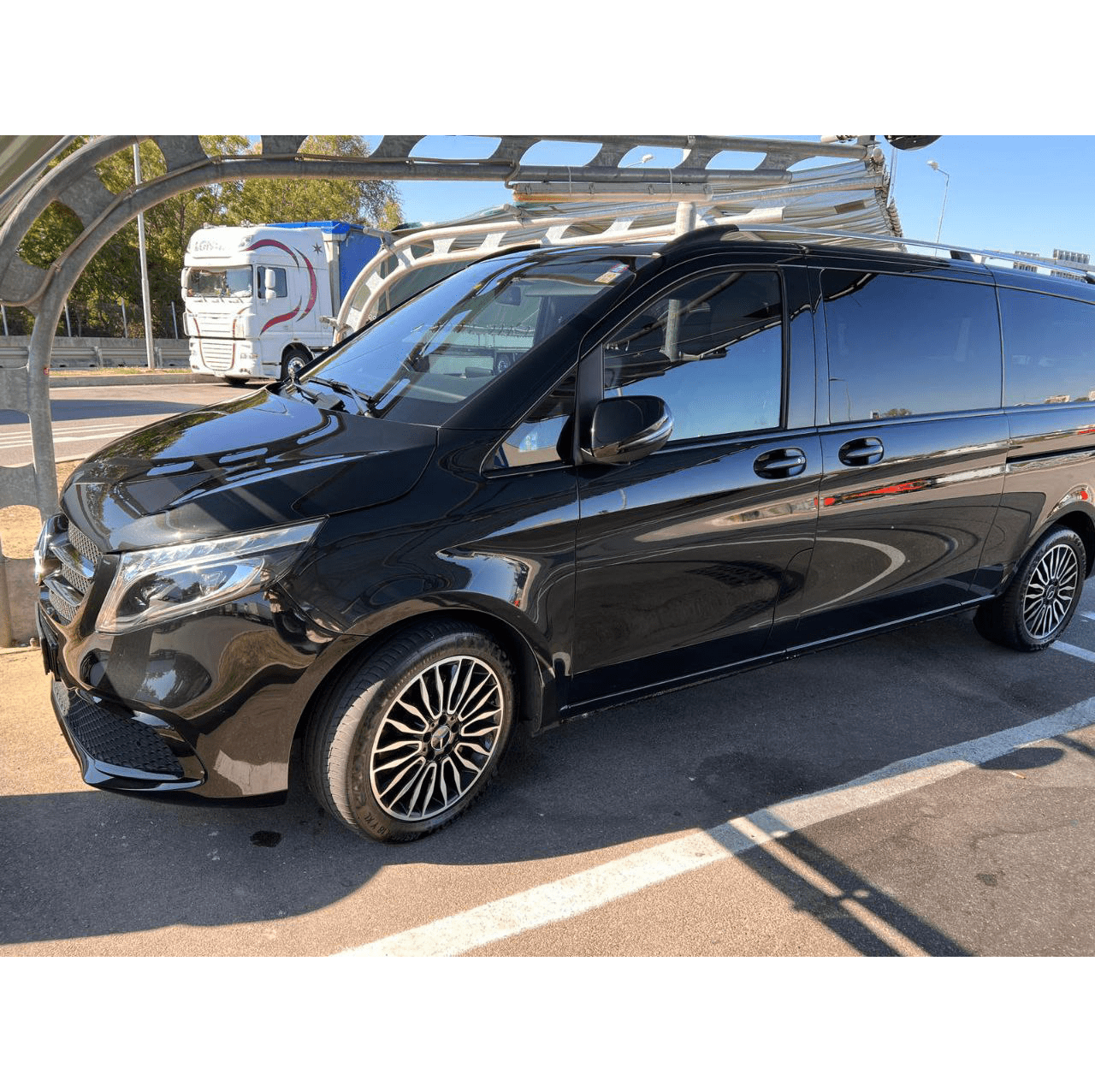 Mokėjimas už pervežimą iš Milano į Kanus
Mūsų klientams siūlome aukšto lygio paslaugas. Norint užsisakyti taksi iš Milano į Kanus, išankstinio mokėjimo nereikia. Klientų patogumui siūlome kelis mokėjimo būdus, įskaitant mokėjimą grynaisiais pinigais. Privataus pervežimo iš Milano į Kanus kaina, apskaičiuota įmonės darbuotojų, ir joje jau atsižvelgta į **vairuotojo laukimo laiką, pasitikimą oro uoste su lentele, važiavimą uždaruose, mokamuose keliuose ir sustojimus. Mes siekiame, kad mūsų klientai patirtų malonių kelionės įspūdžių, todėl teikiame:
– vandenį
– taip pat vaikiškas kėdutes, kad būtų lengviau užtikrinti komforto lygį.
– Jei yra techninė galimybė, visą privataus pervežimo iš Milano į Kanus laiką klientas gali naudotis belaidžiu internetu.
Taksi iš Milan į Cannes
Pasitenkinimas kelione priklauso ne tik nuo poilsio vietos, gero maisto ir oro. Kelionės komfortas priklauso ir nuo transporto. Kuo jis prieinamesnis, tuo aukštesnis žmogaus komforto lygis. Ilgos ir varginančios kelionės iš oro uosto į kelionės tikslą gali sugadinti įspūdį apie vietą, į kurią žmogus atvyksta, atimti daug laiko ir sukelti netikėtų išlaidų. Taksi įmonė "Taxitransfermilan", siūlo privatų pervežimą iš Milano į Kanus patogiais automobiliais. Pervežimą Milano oro uostas – Kanai organizuojame taip, kad klientas negaištų laiko ir galėtų visapusiškai mėgautis kelione, nenukrypdamas nuo parengto grafiko ir plano.
Mūsų vairuotojai pervežimui Milanas-Kanai
Tik patyrę ir mediciniškai patikrinti vairuotojai gali vykdyti privatų pervežimą iš Milano į Kanus. Prieš įdarbindami darbuotojus, mes atliekame griežtą testavimą. Privataus pervežimo iš Milano į Kanus metu vairuotojai nepažeis greičio apribojimų ir nedarys pavojingų manevrų. Kelionė bus saugi ir atpalaiduojanti.
Kanų kelionių vadovas
Kanai – nedidelis, bet labai garsus Prancūzijos miestas. miestas pastatytas prie vandenyno, Žydrajame krante. Šios pakrantės ilgis – apie 10 km;**Privalomi lankytini objektai Kanuose.**Kanuose apžiūrėkite senovines Notre-Dame-de-l-Esperance ir Notre-Dame-de-Bon-Voyage bažnyčias, taip pat stačiatikių Arkangelo Mykolo cerkvę, pastatytą XIX a.*Netoli Kanų yra dvi salos – Sainte-Marguerite ir Saint-Honore. Į jas galima patekti keltu arba vandens taksi iš jūrų stoties. Sainte-Marguerite saloje yra senovinė tvirtovė Fort Royal, vėliau paversta kalėjimu.* Čia, kaip pasakoja legendos, buvo laikomas nusikaltėlis, pramintas "Geležine kauke". Tuomet apie šį didvyrį buvo parašyta daug knygų ir daug knygų nufilmuota. Kaimyninėje saloje, Saint-Honore, yra vienuolynas, kuris buvo pastatytas V amžiuje. Keista, kad jis tebeveikia, jame tebegyvena vienuoliai. **Ką dar galima pamatyti Kanuose?** Be abejo, Pjero Kardeno vilą. Šį pastatą iš plastiko sudaro 28 ovalūs kambariai. Objektas nenusileidžia kitiems galimiems objektams Milane ir Niujorke. taip pat Pablo Pikaso muziejus, Kastro muziejus, Jūrų muziejus. Taip pat galite sėsti į taksi ir važiuoti palei pakrantę, aplankyti Nicos, Monako, Sen Tropezo, Milano muziejus. visi žino, kad Kanuose kasmet vyksta kino festivalis, į kurį susirenka žvaigždės iš viso pasaulio. Būtent čia, spindint televizijos kamerų blykstėms, jos defiliuoja raudonuoju kilimu. pagrindiniai šio renginio renginiai vyksta vadinamuosiuose Palais des Festivals. O netoli rūmų yra Žvaigždžių alėja, panaši į Holivudo. Čia daugybė kinematografijos veikėjų paliko savo delnų atspaudus. reikia pažymėti, kad Kanuose vyksta ir kiti reikšmingi renginiai – reklamos festivalis "Kanų liūtai" ir nuostabaus grožio fejerverkų festivalis. ir, žinoma, apsipirkimas, beveik kaip Milane.
Kaip vykdomas privatus pervežimas iš Milano į Kanus
Mūsų vairuotojas iš anksto atvyksta į Malpensos oro uostą ir laukia asmens, kuris užsisakė taksi iš Milano į Kanus su specialia lentele. Susitikęs su taksi vairuotoju, jis nuves keleivį į automobilį ir, jei reikia, padės sunešti bagažą. Jei klientui pakeliui reikės sustoti, taksi vairuotojas įvykdys prašymą. Kelionė trunka apie 4 valandas.
Kelionės iš Milano į Kanus atšaukimas
Gali nutikti bet kas ir suplanuotas privatus pervežimas iš Milano į Kanus gali būti atšauktas. Naudodamasis mūsų paslaugomis, klientas neturi mokėti atšaukimo mokesčio. Nenorime klientui palikti neigiamo įspūdžio.