Book a transfer via
messenger in 2 clicks


Taxi booking
without prepayment!


Support 24/7

Taxi booking without prepayment!
Book a transfer via messenger in 2 clicks

Support 24/7
Transfer taxi van Milaan naar Cannes
Geen vooruitbetaling! Cash betaling! Gratis annulering!
Een privé-transfer taxi van Milaan naar Cannes is mogelijk zonder enige vooruitbetaling. Bij verandering van plannen is een annulering zonder enige compensatie mogelijk. Onze prijzen zijn zo betaalbaar als het maar kan. We bieden diensten aan tegen concurrerende tarieven.
De vloot voertuigen voor privé-transfer van Milaan naar Cannes van het bedrijf omvat een verscheidenheid aan modellen, waaronder:
Mercedes E-klasse;
Mercedes V-klasse.
Mercedes Sprinter
U kunt via messenger of door een verzoek op de website achter te laten een auto met professionele chauffeur boeken voor transfer Milaan – Cannes.
Kosten van een taxi van Milaan naar Cannes
| Cars Class | | | | Price € |
| --- | --- | --- | --- | --- |
| Economy Sedan | 3 | 3 | | 445€ |
| Economy Mercedes E Class | 3 | 3 | v | 530€ |
| Business Mercedes S Class | 3 | 3 | v | 1100€ |
| Business Mercedes V Class | 7 | 7 | v | 590€ |
| Minivan Mercedes Sprinter | 10 | 11 | v | 705€ |
| Minibus Mercedes Sprinter | 16 | 16 | v | 820€ |
Onze vloot voertuigen voor Milaan-Cannes taxi
We hebben alleen moderne en goed onderhouden voertuigen van verschillende klassen voor privévervoer van Milaan naar Cannes. De klant kan kiezen voor premium modellen met een verhoogd comfortniveau en ook grote, veilige, moderne minibussen.
Gegevens die u moet verstrekken om een taxi te reserveren naar Cannes vanuit Milaan
We hebben er alles aan gedaan om het bestellen van een taxi van Milaan naar Cannes zo snel en gemakkelijk mogelijk te maken. Om een privétransfer van Milaan naar Cannes te bestellen, hoef je alleen maar de volgende informatie te verstrekken:
De werkelijke datum en tijd van aankomst op Malpensa (of het adres in Milaan);
Het geplande adres in Cannes waar de klant wil verblijven;
Het exacte aantal mensen dat vervoer nodig heeft;
Contactgegevens die zullen worden gebruikt om contact op te nemen met de passagier;
De naam van de persoon zodat de chauffeur de klant met een bord kan ontmoeten.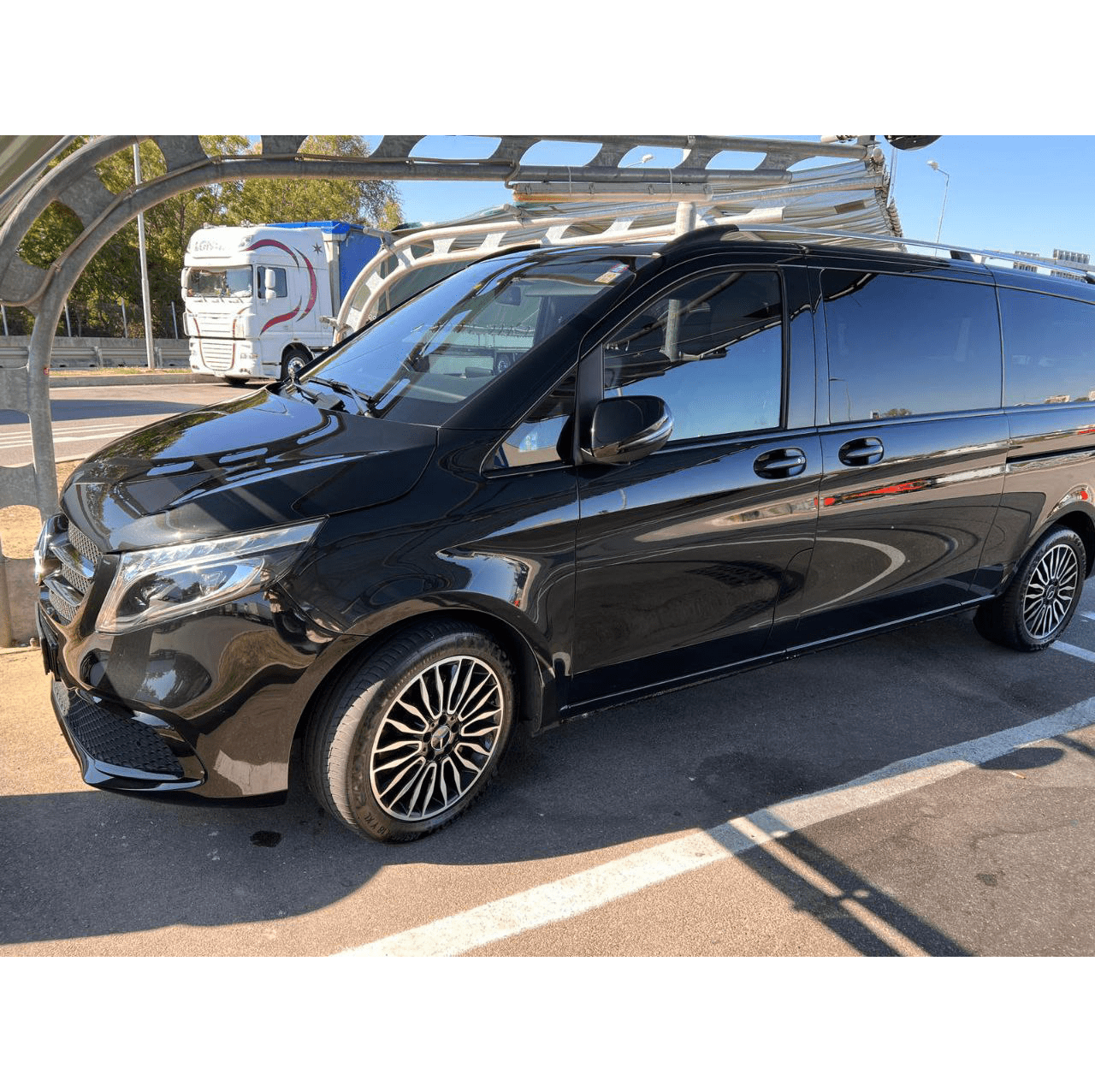 Betaling voor transfer van Milaan naar Cannes
Onze klanten worden een hoog serviceniveau geboden. Er is geen vooruitbetaling vereist om een taxi van Milaan naar Cannes te reserveren. Voor het gemak van de klant bieden we verschillende betaalmethoden aan, waaronder contante betaling. De kosten van een privétransfer van Milaan naar Cannes, berekend door de medewerkers van het bedrijf, houden al rekening met de wachttijd van de chauffeur, ontmoeting op de luchthaven met een bord, rijden door gesloten tolwegen en stops. We streven ernaar ervoor te zorgen dat onze klanten een aangename reiservaring hebben en we bieden:
water
ook kinderzitjes om het niveau van comfort te vergemakkelijken.
Indien technisch mogelijk is WiFi beschikbaar voor de klant tijdens de privétransfer van Milaan naar Cannes.
Taxi van Milaan naar Cannes
De tevredenheid over een reis hangt niet alleen af van de rustplaats, het goede eten en het weer. Reiscomfort hangt ook af van het transport. Hoe toegankelijker het is, hoe hoger het comfortniveau van een persoon is. Lange en vermoeiende reizen van de luchthaven naar de bestemming kunnen de indruk van de plaats waar een persoon aankomt bederven, veel tijd in beslag nemen en onverwachte kosten met zich meebrengen. Het taxibedrijf "Taxitransfermilan" biedt een privétransfer van Milaan naar Cannes aan in comfortabele auto's. We hebben de transfer van Milaan luchthaven naar Cannes georganiseerd op zo'n manier dat de klant geen tijd verspilt en volledig kan genieten van zijn/haar reis, zonder afwijkingen van het voorbereide schema en plan.
Onze chauffeurs voor transfer Milaan-Cannes
Alleen ervaren en medisch gecontroleerde chauffeurs zijn toegestaan om de privétransfer van Milaan naar Cannes uit te voeren. We voeren een rigoureuze test uit voordat we medewerkers aannemen. Chauffeurs zullen geen snelheidslimieten overtreden of gevaarlijke manoeuvres maken tijdens de privétransfer van Milaan naar Cannes. De reis zal veilig en ontspannend zijn.
Cannes reisgids
Cannes is een kleine maar zeer beroemde Franse stad. De stad werd gebouwd aan de oceaan, aan de Côte d'Azur. De lengte van deze kust is ongeveer 10 kilometer; Must see attracties in Cannes. In Cannes, zie de oude kerken van Notre-Dame-de-l-Esperance en Notre-Dame-de-Bon-Voyage, evenals de Orthodoxe Kerk van Michael de Aartsengel, gebouwd in de 19e eeuw. Niet ver van Cannes liggen twee eilanden – Sainte-Marguerite en Saint-Honore. Ze kunnen worden bereikt door een veerboottransfer of watertaxi vanaf het maritieme station. Op Sainte-Marguerite staat de oude vesting Fort Royal, later omgebouwd tot gevangenis. Hier werd, zoals de legendes vertellen, de crimineel met de bijnaam "Iron Mask" vastgehouden. Daarna werden er veel boeken over deze held geschreven en werden er veel films geschoten. Op het naburige eiland, Saint-Honore, staat een klooster dat in de 5e eeuw werd gebouwd. Verrassend genoeg werkt het nog steeds, er wonen nog steeds monniken. Wat kun je nog meer zien in Cannes? Ongetwijfeld naar de villa van Pierre Cardin. Dit gebouw is gemaakt van plastic en bestaat uit 28 ovale kamers. Het object doet niet onder voor andere mogelijke objecten in Milaan en New York. Evenals musea Pablo Picasso Museum, Museum de la Castre, Museum van de Zee. U kunt ook een taxi nemen en langs de kust gaan, musea bezoeken in Nice, Monaco, Saint Tropez, Milaan. Iedereen weet dat Cannes een jaarlijks filmfestival organiseert dat sterren van over de hele wereld samenbrengt. Het is hier, onder de flitsen van tv-camera's, dat ze langs de rode loper defileren. De belangrijkste evenementen van dit evenement vinden plaats in het zogenaamde Palais des Festivals. En niet ver van het Paleis is de Avenue of Stars, vergelijkbaar met Hollywood. Hier hebben veel figuren uit de filmindustrie de afdrukken van hun handpalmen achtergelaten. Het moet worden opgemerkt dat er ook andere belangrijke evenementen in Cannes worden gehouden – het Cannes Lions-advertentiefestival en het verbazingwekkend mooie Vuurwerkfestival. En natuurlijk winkelen, bijna zoals in Milaan.
Hoe de privétransfer van Milaan naar Cannes wordt uitgevoerd
Onze chauffeur komt ruim op tijd aan op de luchthaven Malpensa en wacht op de persoon die de taxi van Milaan naar Cannes heeft besteld met een speciaal bord. Na de ontmoeting met de taxichauffeur zal hij de passagier naar de auto brengen en indien nodig helpen met de bagage. Als de klant onderweg moet stoppen, zal de taxichauffeur het verzoek uitvoeren. De reis duurt ongeveer 4 uur.
Annulering van de reis van Milaan naar Cannes
Er kan van alles gebeuren en een geplande privétransfer van Milaan naar Cannes kan worden geannuleerd. Door gebruik te maken van onze service hoeft de klant geen annuleringskosten te betalen. We willen geen negatieve indruk achterlaten bij de klant.