Book a transfer via
messenger in 2 clicks


Taxi booking
without prepayment!


Support 24/7

Taxi booking without prepayment!
Book a transfer via messenger in 2 clicks

Support 24/7
Milano'dan Cannes'a taksi transferi
Ön ödeme yok! Nakit ödeme! Ücretsiz iptal!
Milano'dan Cannes'a özel transfer taksi herhangi bir ön ödeme yapılmadan mümkündür. Planlarda değişiklik olması durumunda herhangi bir tazminat ödemeden iptal mümkündür. Fiyatlarımız olabildiğince uygun. Rekabetçi fiyatlarla hizmet sunuyoruz.
Şirketin Milano'dan Cannes'a özel transfer için araç filosu, aşağıdakiler de dahil olmak üzere çeşitli modelleri içerir:
Mercedes E sınıfı;
Mercedes V sınıfı
Mercedes Sprinter
Milano – Cannes transferi için messenger aracılığıyla veya web sitesinde
MIlan'dan Cannes'a taksi ücreti
| Cars Class | | | | Price € |
| --- | --- | --- | --- | --- |
| Economy Sedan | 3 | 3 | | 445€ |
| Economy Mercedes E Class | 3 | 3 | v | 530€ |
| Business Mercedes S Class | 3 | 3 | v | 1100€ |
| Business Mercedes V Class | 7 | 7 | v | 590€ |
| Minivan Mercedes Sprinter | 10 | 11 | v | 705€ |
| Minibus Mercedes Sprinter | 16 | 16 | v | 820€ |
Milano-Cannes taksi için araç filomuz
Milano'dan Cannes'a özel transfer için sadece çeşitli sınıflarda modern ve bakımlı araçlarımız var. Müşteri, daha yüksek konfor seviyesine sahip premium modelleri ve ayrıca büyük, güvenli, modern minibüsleri seçebilir.
Milano'dan Cannes'a taksi rezervasyonu yapmak için sağlamanız gereken bilgiler
Milano'dan Cannes'a taksi siparişi vermeyi olabildiğince hızlı ve kolay hale getirmek için elimizden geleni yaptık. Özel bir Milano-Cannes transferi sipariş etmek için tek yapmanız gereken aşağıdaki bilgileri sağlamaktır:
– Malpensa'ya (veya Milano'daki adrese) gerçek varış tarihi ve saati;
– Müşterinin Cannes'da kalmak istediği planlı adres;
– Ulaşım ihtiyacı olan tam kişi sayısı;
– Yolcu ile temasa geçmek için kullanılacak iletişim bilgileri;
– Sürücünün müşteriyi bir plaketle karşılayabilmesi için kişinin adı.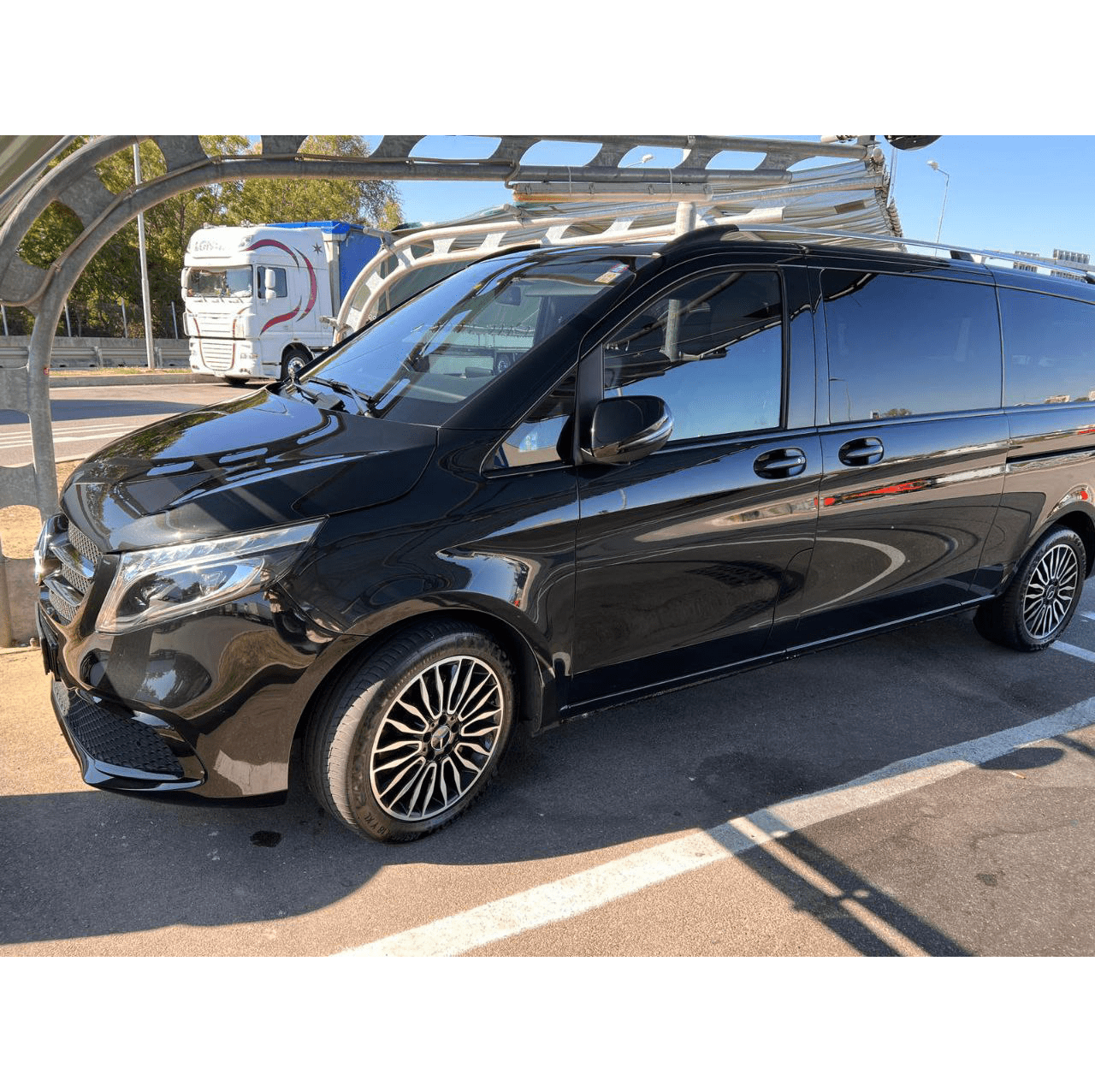 Płatność za transfer z Mediolanu do Cannes
Naszym klientom oferujemy wysoki poziom usług. Do rezerwacji taksówki z Mediolanu do Cannes nie jest wymagana zaliczka. Dla wygody klienta oferujemy kilka metod płatności, w tym płatność gotówką. Koszt prywatnego transferu z Mediolanu do Cannes, obliczany jest przez pracowników firmy i uwzględnia już **czas oczekiwania kierowcy, spotkanie na lotnisku z tabliczką, przejazd przez zamknięte, płatne drogi i postoje. Staramy się, aby nasi klienci mieli przyjemne doświadczenia z podróży i zapewniamy:
– wodę
– również foteliki dla dzieci, aby ułatwić poziom komfortu.
– Jeśli jest to technicznie możliwe, WiFi jest dostępne dla klienta podczas całego prywatnego transferu z Mediolanu do Cannes
Taxi z Mediolanu do Cannes
Zadowolenie z podróży nie zależy tylko od miejsca wypoczynku, dobrego jedzenia i pogody. Komfort podróży zależy również od transportu. Im bardziej jest on dostępny, tym wyższy jest poziom komfortu danej osoby. Długie i męczące podróże z lotniska do miejsca docelowego mogą zepsuć wrażenie o miejscu, do którego człowiek przybywa, pochłonąć wiele czasu i spowodować niespodziewane wydatki. Firma taksówkowa "Taxitransfermilan", oferuje prywatny transfer z Mediolanu do Cannes w komfortowych samochodach. Transfer Mediolan lotnisko – Cannes zorganizowaliśmy w taki sposób, aby klient nie tracił czasu i mógł w pełni cieszyć się swoją podróżą, bez odstępstw od przygotowanego harmonogramu i planu.
Nasi kierowcy na transfer Mediolan – Cannes
Tylko doświadczeni i sprawdzeni medycznie kierowcy są dopuszczeni do przeprowadzenia prywatnego transferu z Mediolanu do Cannes. Przeprowadzamy rygorystyczne testy przed zatrudnieniem pracowników. Kierowcy nie będą łamać ograniczeń prędkości ani wykonywać niebezpiecznych manewrów podczas prywatnego transferu z Mediolanu do Cannes. Podróż będzie bezpieczna i relaksująca.
Przewodnik turystyczny po Cannes
Cannes to niewielkie, ale bardzo znane francuskie miasto.Miasto zostało zbudowane nad oceanem, na Lazurowym Wybrzeżu. Długość tego wybrzeża wynosi około 10 kilometrów;**Must see attractions in Cannes.W Cannes warto zobaczyć zabytkowe kościoły Notre-Dame-de-l-Esperance i Notre-Dame-de-Bon-Voyage, a także prawosławną cerkiew Michała Archanioła, wybudowaną w XIX wieku.*Niedaleko Cannes znajdują się dwie wyspy – Sainte-Marguerite i Saint-Honore. Można się na nie dostać korzystając z transferu promowego lub taksówki wodnej z dworca morskiego. Na Sainte-Marguerite znajduje się starożytna forteca Fort Royal, przekształcona później w więzienie.* To tutaj, jak mówią legendy, przetrzymywany był przestępca o przydomku "Żelazna Maska". Potem o tym bohaterze napisano wiele książek i wiele książek zostało rozstrzelanych. Na sąsiedniej wyspie, Saint-Honore, znajduje się klasztor, który został zbudowany w V wieku. O dziwo, nadal funkcjonuje, nadal mieszkają tam mnisi.**Co jeszcze można zobaczyć w Cannes?** Niewątpliwie do willi Pierre'a Cardina. Budynek ten wykonany jest z tworzywa sztucznego i składa się z 28 owalnych pomieszczeń. Obiekt nie ustępuje innym możliwym obiektom w Mediolanie i Nowym Jorku.Jak również muzea Muzeum Pabla Picassa, Muzeum de la Castre, Muzeum Morza. Można również wziąć taksówkę i iść wzdłuż wybrzeża, odwiedzając muzea w Nicei, Monako, Saint Tropez, Mediolanie.Każdy wie, że w Cannes odbywa się coroczny festiwal filmowy, który gromadzi gwiazdy z całego świata. To tutaj, pod błyskami kamer telewizyjnych, defilują wzdłuż czerwonego dywanu.Główne wydarzenia tego wydarzenia odbywają się w tak zwanym Palais des Festivals. A niedaleko od Pałacu znajduje się Aleja Gwiazd, podobna do Hollywood. Tutaj wiele postaci kinematografii pozostawiło odciski swoich dłoni.Należy zauważyć, że w Cannes odbywają się również inne znaczące wydarzenia – festiwal reklamowy Cannes Lions i niesamowicie piękny Festiwal Fajerwerków.I oczywiście zakupy, prawie jak w Mediolanie.
Jak odbywa się prywatny transfer z Mediolanu do Cannes
Nasz kierowca przybywa na lotnisko Malpensa z wyprzedzeniem i czeka na osobę, która zamówiła taksówkę z Mediolanu do Cannes ze specjalną tabliczką. Po spotkaniu z taksówkarzem odprowadza on pasażera do samochodu i w razie potrzeby pomaga z bagażem. Jeśli klient potrzebuje zatrzymać się po drodze, taksówkarz zrealizuje prośbę. Podróż trwa około 4 godzin.
Odwołanie podróży z Mediolanu do Cannes
Wszystko może się zdarzyć i zaplanowany prywatny transfer z Mediolanu do Cannes może zostać odwołany. Korzystając z naszej usługi, klient nie musi płacić opłaty za anulowanie. Nie chcemy pozostawić negatywnego wrażenia na kliencie.