Book a transfer via
messenger in 2 clicks


Taxi booking
without prepayment!


Support 24/7

Taxi booking without prepayment!
Book a transfer via messenger in 2 clicks

Support 24/7
Transfer taxa fra Milan til Cannes
Ingen forudbetaling! Kontant betaling! Gratis afbestilling!
Privat transfer taxa fra Milano til Cannes er mulig uden forudbetaling. I tilfælde af ændringer af planer er en annullering uden nogen kompensation mulig. Vores priser er så overkommelige som det kan være. Vi tilbyder tjenester til konkurrencedygtige priser.
Virksomhedens flåde af køretøjer til privat overførsel fra Milano til Cannes omfatter en række forskellige modeller, herunder:
Mercedes E klasse;
Mercedes V-klasse .
Mercedes Sprinter
Du kan bestille en bil med en professionel chauffør til transfer Milano – Cannes via messenger eller ved at efterlade en forespørgsel på hjemmesiden.
Omkostninger af en taxa fra MIlan til Cannes
| Cars Class | | | | Price € |
| --- | --- | --- | --- | --- |
| Economy Sedan | 3 | 3 | | 445€ |
| Economy Mercedes E Class | 3 | 3 | v | 530€ |
| Business Mercedes S Class | 3 | 3 | v | 1100€ |
| Business Mercedes V Class | 7 | 7 | v | 590€ |
| Minivan Mercedes Sprinter | 10 | 11 | v | 705€ |
| Minibus Mercedes Sprinter | 16 | 16 | v | 820€ |
Vores flåde af køretøjer til Milano-Cannes taxa
Vi har kun moderne og velholdte køretøjer af forskellige klasser til privat transfer fra Milano til Cannes. Kunden kan vælge premium-modeller med et øget komfortniveau og også store, sikre og moderne minibusser.
Oplysninger, som du skal give for at reservere en taxa til Cannes fra Milano
Vi har gjort alt, hvad vi kan, for at gøre bestilling af en taxa fra Milano til Cannes så hurtigt og nemt som muligt. For at bestille en privat transfer Milano-Cannes skal du blot give følgende oplysninger:
– Du skal blot angive følgende oplysninger: Den faktiske dato og tidspunkt for ankomst til Malpensa (eller adresse i Milano);
– Planlagt adresse i Cannes, hvor kunden ønsker at bo;
– Præcist antal personer, der har brug for transport;
– Kontaktoplysninger, der skal bruges til at komme i kontakt med passageren;
– Navnet på personen, så chaufføren kan møde kunden med et plakat.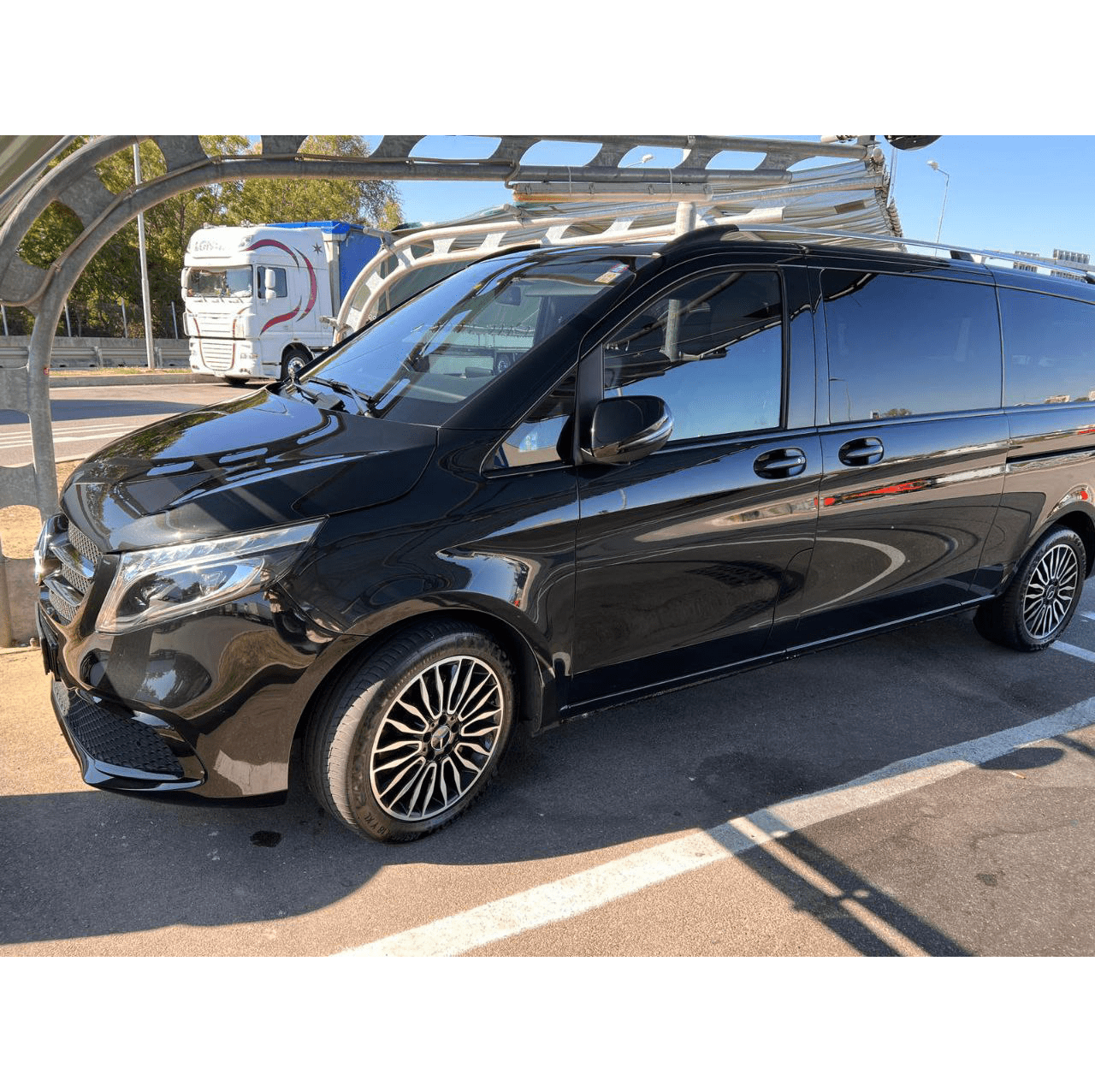 Betaling for overførsel fra Milan til Cannes
Vores kunder tilbydes et højt serviceniveau. Der kræves ingen forudbetaling for at reservere en taxa fra Milano til Cannes. For kundens bekvemmelighed tilbyder vi flere betalingsmetoder, herunder kontant betaling. Prisen for en privat overførsel fra Milano til Cannes, beregnet af virksomhedens medarbejdere, og tager allerede højde for **chaufførens ventetid, møde i lufthavnen med et plakat, kørsel gennem lukkede, betalingsveje og stop. Vi bestræber os på at sikre, at vores kunder har en behagelig rejseoplevelse, og vi tilbyder:
– vand
– også barnesæder for at lette niveauet af komfort.
– Hvis det er teknisk muligt, er WiFi tilgængeligt for kunden under hele den private transfer fra Milano til Cannes
Taxa fra Milan til Cannes
Tilfredshed med en rejse afhænger ikke kun af rastepladsen, den gode mad og vejret. Rejsekomfort afhænger også af transporten. Jo mere tilgængelig den er, jo højere er en persons komfortniveau. Lange og udmattende rejser fra lufthavnen til destinationen kan ødelægge indtrykket af det sted, en person ankommer til, forbruge meget tid og forårsage uventede udgifter. Taxiselskabet "Taxitransfermilan" tilbyder privat transport fra Milano til Cannes i komfortable biler. Vi organiserede transfer Milano lufthavn – Cannes på en sådan måde, at kunden ikke spilder tid og fuldt ud kan nyde sin tur, uden afvigelser fra den forberedte tidsplan og plan.
Vores chauffører til transfer Milano-Cannes
Kun erfarne og lægeinspicerede chauffører har lov til at udføre den private transfer fra Milano til Cannes. Vi udfører en streng test, før vi ansætter medarbejdere. Chaufførerne vil ikke overtræde hastighedsgrænserne eller foretage farlige manøvrer under den private overførsel fra Milano til Cannes. Rejsen vil være sikker og afslappende.
Rejseguide til Cannes
Cannes er en lille, men meget berømt fransk by. byen blev bygget på havet, på Cote d'Azur. Længden af denne kyst er ca. 10 kilometer;**Must see attraktioner i Cannes: **I Cannes skal du se de gamle kirker Notre-Dame-de-l-Esperance og Notre-Dame-de-Bon-Voyage samt den ortodokse kirke Michael ærkeenglen, der blev bygget i det 19. århundrede.* Ikke langt fra Cannes ligger to øer – Sainte-Marguerite og Saint-Honore. Man kan komme til dem ved at tage en færgetransfer eller en vandtaxi fra søfartsstationen. På Sainte-Marguerite ligger den gamle fæstning Fort Royal, som senere blev omdannet til fængsel.* Det var her, som legenderne siger, at forbryderen med tilnavnet "Jernmasken" blev holdt fanget. Derefter blev der skrevet mange bøger om denne helt, og mange bøger blev skudt. På naboøen Saint-Honore ligger der et kloster, som blev bygget i det 5. århundrede. Overraskende nok fungerer det stadig, munkene bor der stadig.**Hvad kan man ellers se i Cannes?** Utvivlsomt til Pierre Cardins villa. Denne bygning er lavet af plastik og består af 28 ovale værelser. Objektet er ikke ringere end andre mulige objekter i Milano og New York.Samt museer Pablo Picasso-museet, Museum de la Castre, Museum of the Sea. Du kan også tage en taxa og køre langs kysten og besøge museer i Nice, Monaco, Saint Tropez, Milano. alle ved, at Cannes er vært for en årlig filmfestival, der samler stjerner fra hele verden. Det er her, under tv-kameraernes blitzlys, at de defile langs den røde løber. de vigtigste begivenheder i denne begivenhed finder sted i det såkaldte Palais des Festivals. Og ikke langt fra paladset ligger Avenue of Stars, der ligner Hollywood. Her efterlod mange figurer fra filmkunsten aftryk af deres håndflader.Det skal bemærkes, at der også afholdes andre vigtige begivenheder i Cannes – Cannes Lions reklamefestival og den utroligt smukke fyrværkerifestival.Og selvfølgelig shopping, næsten som i Milano.
Sådan foregår den private transfer fra Milano til Cannes
Vores chauffør ankommer til lufthavnen Malpensa på forhånd og venter på den en person, der har bestilt taxaen fra Milano til Cannes med et særligt plakat. Efter mødet med taxachaufføren vil han føre passageren til bilen og om nødvendigt hjælpe med bagagen. Hvis kunden har brug for at stoppe undervejs, vil taxachaufføren udføre anmodningen. Rejsen tager ca. 4 timer.
Aflysning af turen fra Milano til Cannes
Alt kan ske, og en planlagt privat transfer fra Milano til Cannes kan blive aflyst. Ved at bruge vores service behøver kunden ikke at betale et afbestillingsgebyr. Vi ønsker ikke at efterlade et negativt indtryk hos kunden.