Book a transfer via
messenger in 2 clicks


Taxi booking
without prepayment!


Support 24/7

Taxi booking without prepayment!
Book a transfer via messenger in 2 clicks

Support 24/7
Overfør taxi fra Milano til Cannes
Ingen forskuddsbetaling! Kontant betaling! Gratis avbestilling!
Privat transfer taxi fra Milano til Cannes er mulig uten forskuddsbetaling. I tilfelle endringer av planer er en avbestilling uten kompensasjon mulig. Våre priser er så rimelige som det kan være. Vi tilbyr tjenester til konkurransedyktige priser.
Selskapets bilpark for privat transport fra Milano til Cannes inkluderer en rekke modeller, inkludert:
Mercedes E-klasse;
Mercedes V-klasse .
Mercedes Sprinter
Du kan bestille en bil med en profesjonell sjåfør for overføring Milano – Cannes via messenger eller ved å legge igjen en forespørsel på nettstedet
Kostnaden for en taxi fra MIlan til Cannes
| Cars Class | | | | Price € |
| --- | --- | --- | --- | --- |
| Economy Sedan | 3 | 3 | | 445€ |
| Economy Mercedes E Class | 3 | 3 | v | 530€ |
| Business Mercedes S Class | 3 | 3 | v | 1100€ |
| Business Mercedes V Class | 7 | 7 | v | 590€ |
| Minivan Mercedes Sprinter | 10 | 11 | v | 705€ |
| Minibus Mercedes Sprinter | 16 | 16 | v | 820€ |
Vår flåte av biler for Milano-Cannes taxi
Vi har bare moderne og velholdte kjøretøyer i forskjellige klasser for privat transport fra Milano til Cannes. Kunden kan velge premiummodeller med økt komfortnivå og også store, trygge, moderne minibusser.
Informasjon du trenger å oppgi for å reservere en taxi til Cannes fra Milano
Vi har gjort alt vi kan for å gjøre bestillingen av en taxi fra Milano til Cannes så rask og enkel som mulig. For å bestille en privat overføring Milano-Cannes, alt du trenger å gjøre er å oppgi følgende informasjon:
– Faktisk dato og klokkeslett for ankomst i Malpensa (eller adresse i Milano);
– Planlagt adresse i Cannes der kunden ønsker å bo;
– Nøyaktig antall personer som trenger transport;
– Kontaktinformasjon som vil bli brukt til å komme i kontakt med passasjeren;
– Navn på personen slik at sjåføren kan møte kunden med et skilt.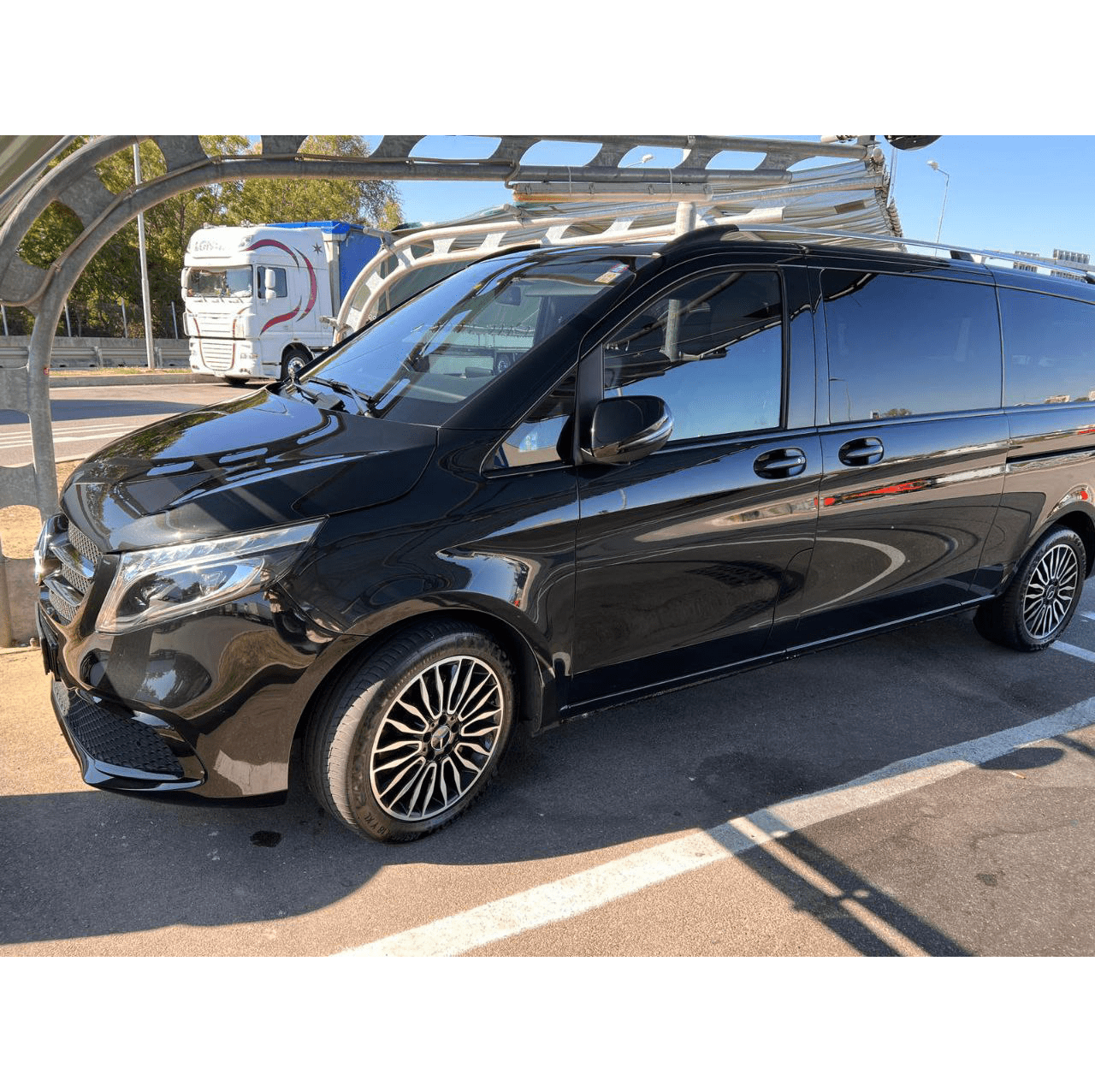 Betaling for transport fra Milano til Cannes
Våre kunder tilbys et høyt servicenivå. Ingen forskuddsbetaling er nødvendig for å reservere en drosje fra Milano til Cannes. For kundens bekvemmelighet tilbyr vi flere betalingsmåter, inkludert kontant betaling. Kostnaden for en privat overføring fra Milano til Cannes, beregnet av selskapets ansatte, og tar allerede hensyn til **sjåførens ventetid, møte på flyplassen med en plakett, kjøring gjennom stengte bomveier og stopp. Vi streber etter å sikre at kundene våre får en hyggelig reiseopplevelse, og vi tilbyr:
– vann
– også barneseter for å øke komforten.
– Hvis det er teknisk mulig, er WiFi tilgjengelig for kunden under hele den private overføringen fra Milano til Cannes.
Drosje fra Milano til Cannes
Tilfredshet med en tur avhenger ikke bare av hvilestedet, den gode maten og været. Reisekomfort avhenger også av transport. Jo mer tilgjengelig det er, jo høyere er en persons komfortnivå. Lange og utmattende reiser fra flyplassen til destinasjonen kan ødelegge inntrykket av stedet en person ankommer, ta mye tid og forårsake uventede utgifter. Drosjeselskapet «Taxitransfermilan» tilbyr privat transport fra Milano til Cannes i komfortable biler. Vi organiserte overføringen Milano flyplass – Cannes på en slik måte at klienten ikke kaster bort tid og kan nyte turen fullt ut, uten avvik fra den forberedte tidsplanen og planen.
Våre sjåfører for transport Milano-Cannes
Kun erfarne og medisinsk inspiserte sjåfører har lov til å utføre privat transport fra Milano til Cannes. Vi utfører en streng test før vi ansetter ansatte. Sjåfører vil ikke bryte fartsgrenser eller gjøre farlige manøvrer under privat transport fra Milano til Cannes. Reisen vil være trygg og avslappende.
Cannes reiseguide
Cannes er en liten, men veldig kjent fransk by. Byen ble bygget på havet, på Cote d'Azur. Lengden på denne kysten er omtrent 10 kilometer;**Må se attraksjoner i Cannes.**I Cannes, se de gamle kirkene Notre-Dame-de-l-Esperance og Notre-Dame-de-Bon-Voyage, samt den ortodokse kirken erkeengelen Michael, bygget på 1800-tallet.* Ikke langt fra Cannes er det to øyer – Sainte-Marguerite og Saint-Honore. De kan nås ved å ta en fergetransport eller vanntaxi fra den maritime stasjonen. På Sainte-Marguerite ligger den gamle festningen Fort Royal, senere omgjort til et fengsel.* Det var her, som legendene sier, at forbryteren, med kallenavnet «Jernmasken», ble holdt. Så ble det skrevet mange bøker om denne helten og mange bøker ble skutt. På naboøya, Saint-Honore, er det et kloster, som ble bygget på 500-tallet. Overraskende nok fungerer det fortsatt, munker bor fortsatt der.** Hva mer kan du se i Cannes?** Utvilsomt til villaen til Pierre Cardin. Denne bygningen er laget av plast og består av 28 ovale rom. Objektet er ikke dårligere enn andre mulige gjenstander i Milano og New York.samt museer Pablo Picasso Museum, Museum de la Castre, Museum of the Sea. Du kan også ta en taxi og gå langs kysten, besøke museer i Nice, Monaco, Saint Tropez, Milano.Alle vet at Cannes er vert for en årlig filmfestival som samler stjerner fra hele verden. Det er her, under blinkene fra TV-kameraer, at de besudler langs den røde løperen.Hovedbegivenhetene til dette arrangementet finner sted i det såkalte Palais des Festivals. Og ikke langt fra palasset ligger Avenue of Stars, som ligner på Hollywood. Her etterlot mange figurer av kinematografi utskrifter av håndflatene sine.Det skal bemerkes at andre viktige begivenheter også holdes i Cannes – Cannes Lions reklamefestival og den utrolig vakre fyrverkerifestivalen.Og selvfølgelig shopping, nesten som i Milano.
Hvordan den private overføringen fra Milano til Cannes utføres
Sjåføren vår ankommer flyplassen Malpensa på forhånd og venter på en person som bestilte taxi fra Milano til Cannes med et spesielt plakat. Etter møtet med drosjesjåføren tar han passasjeren til bilen og hjelper om nødvendig med bagasjen. Hvis kunden trenger å stoppe underveis, vil drosjesjåføren utføre forespørselen. Reisen tar omtrent 4 timer.
Avbestilling av turen fra Milano til Cannes
Alt kan skje, og en planlagt privat transport fra Milano til Cannes kan kanselleres. Ved å bruke tjenesten vår trenger ikke kunden å betale et avbestillingsgebyr. Vi ønsker ikke å etterlate et negativt inntrykk på klienten.