Prywatny transfer w Mediolanie
Prywatny transfer w Mediolanie

Book a transfer via
messenger in 2 clicks


Taxi booking
without prepayment!


Support 24/7

Taxi booking without prepayment!
Book a transfer via messenger in 2 clicks

Support 24/7
Transfer taxi z Mediolanu do Cannes
Bez przedpłaty! Płatność gotówką! Bezpłatne anulowanie!
Prywatny transfer taxi z Mediolanu do Cannes jest możliwy bez żadnej przedpłaty. W przypadku zmiany planów możliwa jest anulacja bez żadnej rekompensaty. Nasze ceny są tak przystępne, jak to tylko możliwe. Oferujemy usługi w konkurencyjnych stawkach.
Flota pojazdów firmy na prywatny transfer z Mediolanu do Cannes obejmuje różne modele, w tym:
– Mercedes E klasa.
– Mercedes V klasa;
– Mercedes Sprinter.
Samochód z profesjonalnym kierowcą na transfer Mediolan – Cannes można zarezerwować za pośrednictwem komunikatora lub zostawiając zapytanie na https://taxitransfermilan.com/
Koszt taksówki z Mediolanu do Cannes
| Cars Class | | | | Price € |
| --- | --- | --- | --- | --- |
| Economy Sedan | 3 | 3 | | 445€ |
| Economy Mercedes E Class | 3 | 3 | v | 530€ |
| Business Mercedes S Class | 3 | 3 | v | 1100€ |
| Business Mercedes V Class | 7 | 7 | v | 590€ |
| Minivan Mercedes Sprinter | 10 | 11 | v | 705€ |
| Minibus Mercedes Sprinter | 16 | 16 | v | 820€ |
Nasza flota pojazdów dla Milan-Cannes taxi
Dysponujemy wyłącznie nowoczesnymi i dobrze utrzymanymi pojazdami różnych klas na potrzeby prywatnego transferu z Mediolanu do Cannes. Klient może wybrać modele premium o podwyższonym poziomie komfortu, a także duże, bezpieczne, nowoczesne minibusy.
Informacje, które musisz podać, aby zarezerwować taksówkę do Cannes z Mediolanu
Zrobiliśmy wszystko, aby zamówienie taksówki z Mediolanu do Cannes było tak szybkie i łatwe, jak to tylko możliwe. Aby zamówić prywatny transfer Mediolan-Cannes, wszystko co musisz zrobić to **podać następujące informacje:**
– Rzeczywista data i godzina przyjazdu na Malpensę (lub adres w Mediolanie);
– Planowany adres w Cannes, gdzie klient chce się zatrzymać;
– Dokładna liczba osób, które potrzebują transportu;
– Dane kontaktowe, które zostaną użyte do skontaktowania się z pasażerem;
– Imię i nazwisko osoby, aby kierowca mógł poznać klienta z tabliczką.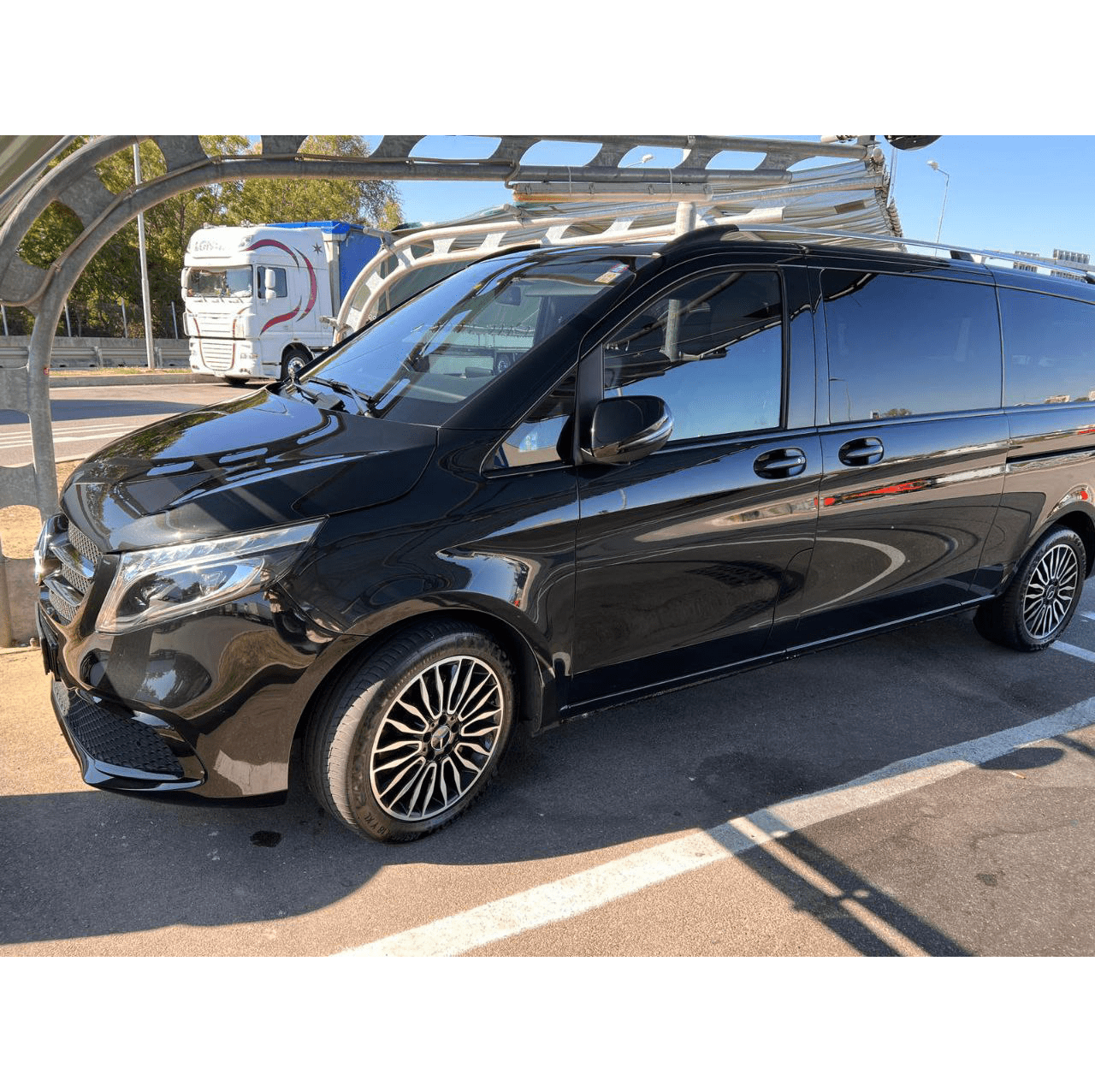 Płatność za transfer z Mediolanu do Cannes
Naszym klientom oferujemy wysoki poziom usług. Do rezerwacji taksówki z Mediolanu do Cannes nie jest wymagana zaliczka. Dla wygody klienta oferujemy kilka metod płatności, w tym **płatność gotówką.** Koszt prywatnego transferu z Mediolanu do Cannes, obliczany jest przez pracowników firmy i uwzględnia już **czas oczekiwania kierowcy, spotkanie na lotnisku z tabliczką, przejazd przez zamknięte, płatne drogi i postoje. Staramy się, aby nasi klienci mieli przyjemne doświadczenia z podróży i zapewniamy:
– wodę
– również foteliki dla dzieci, aby ułatwić poziom komfortu.
– Jeśli jest to technicznie możliwe, WiFi jest dostępne dla klienta podczas całego prywatnego transferu z Mediolanu do Cannes
Taxi from Milan to Cannes
Zadowolenie z podróży nie zależy tylko od miejsca wypoczynku, dobrego jedzenia i pogody. Komfort podróży zależy również od transportu. Im bardziej jest on dostępny, tym wyższy jest poziom komfortu danej osoby. Długie i męczące podróże z lotniska do miejsca docelowego mogą zepsuć wrażenie o miejscu, do którego człowiek przybywa, pochłonąć wiele czasu i spowodować niespodziewane wydatki. Firma taksówkowa "Taxitransfermilan", oferuje prywatny transfer z Mediolanu do Cannes w komfortowych samochodach. Transfer Mediolan lotnisko – Cannes zorganizowaliśmy w taki sposób, aby klient nie tracił czasu i mógł w pełni cieszyć się swoją podróżą, bez odstępstw od przygotowanego harmonogramu i planu.
Nasi kierowcy dla transferu Mediolan – Cannes
Tylko doświadczeni i sprawdzeni medycznie kierowcy są dopuszczeni do przeprowadzenia prywatnego transferu z Mediolanu do Cannes. Przeprowadzamy rygorystyczne testy przed zatrudnieniem pracowników. Kierowcy nie będą łamać ograniczeń prędkości ani wykonywać niebezpiecznych manewrów podczas prywatnego transferu z Mediolanu do Cannes. Podróż będzie bezpieczna i relaksująca.
Cannes przewodnik turystyczny
Cannes to niewielkie, ale bardzo znane francuskie miasto.Miasto zostało zbudowane nad oceanem, na Lazurowym Wybrzeżu. Długość tego wybrzeża wynosi około 10 kilometrów;**Must see attractions in Cannes.W Cannes warto zobaczyć zabytkowe kościoły Notre-Dame-de-l-Esperance i Notre-Dame-de-Bon-Voyage, a także prawosławną cerkiew Michała Archanioła, wybudowaną w XIX wieku.*Niedaleko Cannes znajdują się dwie wyspy – Sainte-Marguerite i Saint-Honore. Można się na nie dostać korzystając z transferu promowego lub taksówki wodnej z dworca morskiego. Na Sainte-Marguerite znajduje się starożytna forteca Fort Royal, przekształcona później w więzienie.* To tutaj, jak mówią legendy, przetrzymywany był przestępca o przydomku "Żelazna Maska". Potem o tym bohaterze napisano wiele książek i wiele książek zostało rozstrzelanych. Na sąsiedniej wyspie, Saint-Honore, znajduje się klasztor, który został zbudowany w V wieku. O dziwo, nadal funkcjonuje, nadal mieszkają tam mnisi.**Co jeszcze można zobaczyć w Cannes?** Niewątpliwie do willi Pierre'a Cardina. Budynek ten wykonany jest z tworzywa sztucznego i składa się z 28 owalnych pomieszczeń. Obiekt nie ustępuje innym możliwym obiektom w Mediolanie i Nowym Jorku.Jak również muzea Muzeum Pabla Picassa, Muzeum de la Castre, Muzeum Morza. Można również wziąć taksówkę i iść wzdłuż wybrzeża, odwiedzając muzea w Nicei, Monako, Saint Tropez, Mediolanie.Każdy wie, że w Cannes odbywa się coroczny festiwal filmowy, który gromadzi gwiazdy z całego świata. To tutaj, pod błyskami kamer telewizyjnych, defilują wzdłuż czerwonego dywanu.Główne wydarzenia tego wydarzenia odbywają się w tak zwanym Palais des Festivals. A niedaleko od Pałacu znajduje się Aleja Gwiazd, podobna do Hollywood. Tutaj wiele postaci kinematografii pozostawiło odciski swoich dłoni.Należy zauważyć, że w Cannes odbywają się również inne znaczące wydarzenia – festiwal reklamowy Cannes Lions i niesamowicie piękny Festiwal Fajerwerków.I oczywiście zakupy, prawie jak w Mediolanie.
Jak odbywa się prywatny transfer z Mediolanu do Cannes
Nasz kierowca przybywa na lotnisko Malpensa z wyprzedzeniem i czeka na osobę, która zamówiła taksówkę z Mediolanu do Cannes ze specjalną tabliczką. Po spotkaniu z taksówkarzem odprowadza on pasażera do samochodu i w razie potrzeby pomaga z bagażem. Jeśli klient potrzebuje zatrzymać się po drodze, taksówkarz zrealizuje prośbę. Podróż trwa około 4 godzin.
 Odwołanie podróży z Mediolanu do Cannes
Wszystko może się zdarzyć i zaplanowany prywatny transfer z Mediolanu do Cannes może zostać odwołany. Korzystając z naszej usługi, klient nie musi płacić opłaty za anulowanie. Nie chcemy pozostawić negatywnego wrażenia na kliencie.