Book a transfer via
messenger in 2 clicks


Taxi booking
without prepayment!


Support 24/7

Taxi booking without prepayment!
Book a transfer via messenger in 2 clicks

Support 24/7
Transfer taxi från Milan till Cannes
Ingen förskottsbetalning! Kontant betalning! Gratis avbokning!
Privat transfer taxi från Milano till Cannes är möjlig utan förskottsbetalning. Vid ändrade planer är en avbokning utan ersättning möjlig. Våra priser är så överkomliga som det bara går att vara. Vi erbjuder tjänster till konkurrenskraftiga priser.
Företagets fordonsflotta för privat transfer från Milano till Cannes omfattar en mängd olika modeller, t.ex:
Mercedes E-klass;
Mercedes V-klass .
Mercedes Sprinter
Du kan boka en bil med en professionell förare för transfer Milano – Cannes via budbärare eller genom att lämna en förfrågan på hemsidan
Kostnad för en taxi från MIlan till Cannes
| Cars Class | | | | Price € |
| --- | --- | --- | --- | --- |
| Economy Sedan | 3 | 3 | | 445€ |
| Economy Mercedes E Class | 3 | 3 | v | 530€ |
| Business Mercedes S Class | 3 | 3 | v | 1100€ |
| Business Mercedes V Class | 7 | 7 | v | 590€ |
| Minivan Mercedes Sprinter | 10 | 11 | v | 705€ |
| Minibus Mercedes Sprinter | 16 | 16 | v | 820€ |
Vår fordonsflotta för taxi Milano-Cannes
Vi har endast moderna och väl underhållna fordon av olika klasser för privat transfer från Milano till Cannes. Kunden kan välja premiummodeller med ökad komfort och även stora, säkra och moderna minibussar.
Information som du behöver lämna för att boka en taxi till Cannes från Milano.
Vi har gjort allt vi kan för att det ska vara så snabbt och enkelt som möjligt att beställa en taxi från Milano till Cannes. För att beställa en privat transfer Milano-Cannes behöver du bara ange följande information:
– Du måste bara ange följande: Faktiskt datum och tid för ankomst till Malpensa (eller adress i Milano);
– Planerad adress i Cannes där kunden vill bo;
– Exakt antal personer som behöver transport;
– Kontaktuppgifter som kommer att användas för att komma i kontakt med passageraren;
– Personens namn så att föraren kan möta kunden med ett plakat.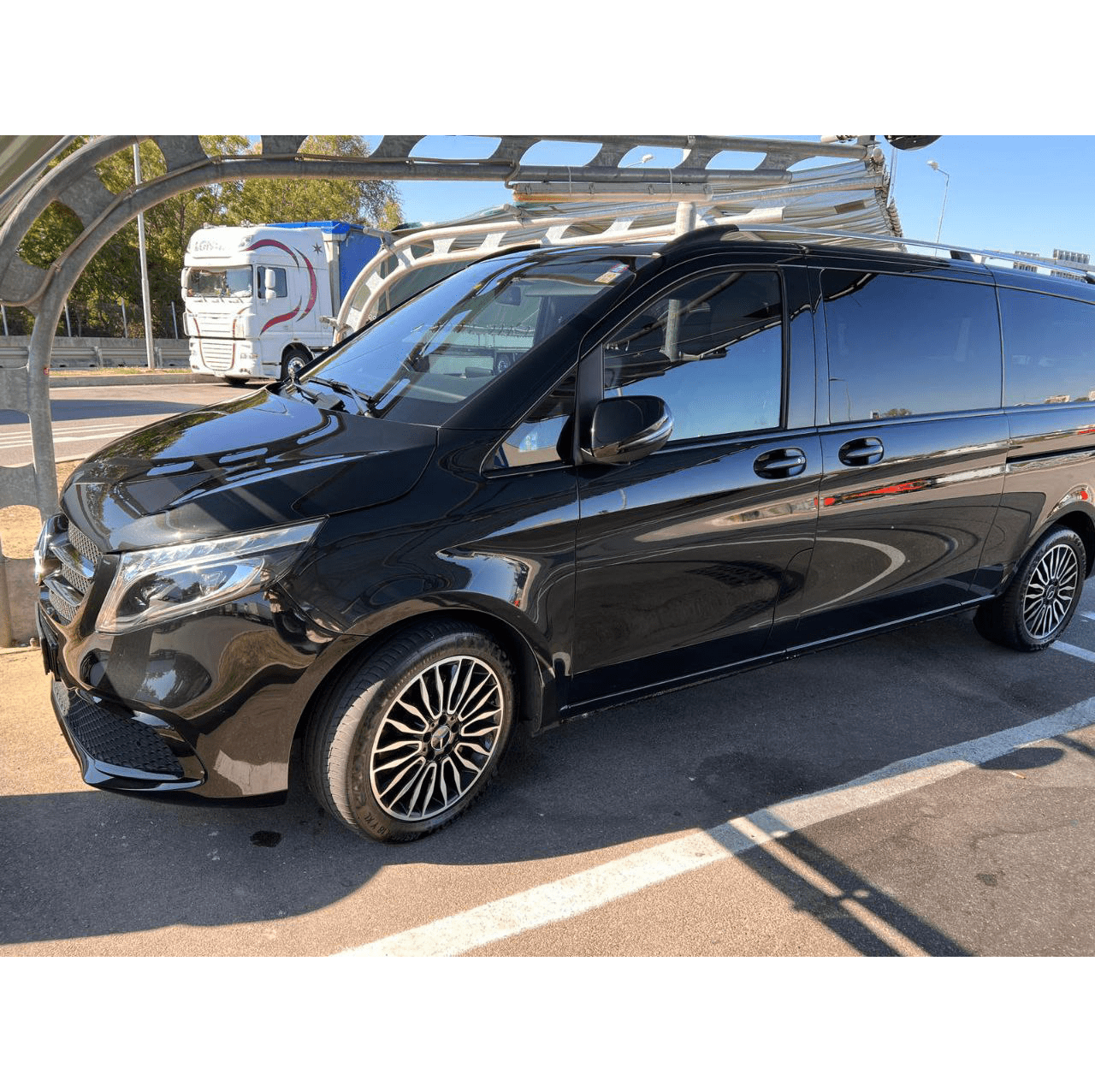 Betalning för transfer från Milano till Cannes
Våra kunder erbjuds en hög servicenivå. Ingen förskottsbetalning krävs för att boka en taxi från Milano till Cannes. För kundens bekvämlighet erbjuder vi flera betalningsmetoder, inklusive kontantbetalning. Kostnaden för en privat transfer från Milano till Cannes, beräknas av företagets anställda, och tar redan hänsyn till **förarens väntetid, möte på flygplatsen med ett plakat, körning genom stängda, avgiftsbelagda vägar och stopp. Vi strävar efter att våra kunder ska få en trevlig reseupplevelse och vi tillhandahåller:
– vatten
– även barnstolar för att underlätta nivån av komfort.
– Om det är tekniskt möjligt finns WiFi tillgängligt för kunden under hela den privata transfern från Milano till Cannes.
Taxi fran Milan till Cannes
Tillfredsställelse med en resa beror inte bara på viloplatsen, den goda maten och vädret. Resekomforten beror också på transporten. Ju mer tillgänglig den är, desto högre är en persons komfortnivå. Långa och ansträngande resor från flygplatsen till resmålet kan förstöra intrycket av den plats en person anländer till, ta mycket tid i anspråk och orsaka oväntade utgifter. Taxibolaget "Taxitransfermilan" erbjuder privat transfer från Milano till Cannes i bekväma bilar. Vi organiserade transfern Milano flygplats – Cannes på ett sådant sätt att kunden inte slösar tid och kan njuta fullt ut av sin resa, utan avvikelser från det förberedda schemat och planen.
Våra chaufförer för transfer Milano-Cannes
Endast erfarna och medicinskt inspekterade förare får utföra den privata transfern från Milano till Cannes. Vi genomför ett rigoröst test innan vi anställer medarbetare. Förarna kommer inte att bryta mot hastighetsgränserna eller göra farliga manövrer under den privata transfern från Milano till Cannes. Resan kommer att vara säker och avkopplande.
Reseguide Cannes
Cannes är en liten men mycket berömd fransk stad. staden byggdes på havet, på Cote d'Azur. Längden på denna kust är cirka 10 kilometer. **Måste sevärdheter i Cannes. **I Cannes kan du se de gamla kyrkorna Notre-Dame-de-l-Esperance och Notre-Dame-de-Bon-Voyage, samt den ortodoxa kyrkan Michael Archangel, som byggdes på 1800-talet. *Inom Cannes finns två öar – Sainte-Marguerite och Saint-Honore. De kan nås genom att ta en färjetransfer eller vattentaxi från sjöstationen. På Sainte-Marguerite ligger den gamla fästningen Fort Royal, som senare byggdes om till fängelse. *Det var här, som legenderna säger, som brottslingen med smeknamnet "Järnmasken" hölls fängslad. Därefter skrevs många böcker om denna hjälte och många böcker sköts. På grannön Saint-Honore finns ett kloster som byggdes på 500-talet. Överraskande nog fungerar det fortfarande, munkar bor fortfarande där. **Vad mer kan du se i Cannes?** Utan tvekan till Pierre Cardins villa. Denna byggnad är gjord av plast och består av 28 ovala rum. Objektet är inte sämre än andra möjliga objekt i Milano och New York.Samt museer Pablo Picasso-museet, Museum de la Castre, Museum of the Sea. Du kan också ta en taxi och åka längs kusten och besöka museer i Nice, Monaco, Saint Tropez, Milano. alla vet att Cannes är värd för en årlig filmfestival som samlar stjärnor från hela världen. Det är här, under tv-kamerornas blixtar, som de smutskastar längs den röda mattan. de viktigaste händelserna i detta evenemang äger rum i det så kallade Palais des Festivals. Och inte långt från palatset ligger Avenue of Stars, som liknar Hollywood. Här har många av filmfotografins figurer lämnat avtryck av sina handflator.Det bör noteras att andra viktiga evenemang också hålls i Cannes – reklamfestivalen Cannes Lions och den fantastiskt vackra fyrverkerifestivalen.Och naturligtvis shopping, nästan som i Milano.
Hur den privata transfern från Milano till Cannes utförs
Vår förare anländer till flygplatsen Malpensa i förväg och väntar på den en person som beställt taxi från Milano till Cannes med en speciell plakat. Efter mötet med taxichauffören tar han passageraren till bilen och hjälper vid behov till med bagaget. Om kunden behöver stanna på vägen kommer taxichauffören att utföra begäran. Resan tar cirka 4 timmar.
Avbokning av resan från Milano till Cannes
Allt kan hända och en planerad privat transfer från Milano till Cannes kan ställas in. Genom att använda vår tjänst behöver kunden inte betala någon avbokningsavgift. Vi vill inte lämna ett negativt intryck på kunden.