Helicopter Transfer in Milan
Helicopter Transfer in Milan

Book a transfer via
messenger in 2 clicks


Taxi booking
without prepayment!


Support 24/7

Taxi booking without prepayment!
Book a transfer via messenger in 2 clicks

Support 24/7
Helicopter transfer from Milan to Ortisei
For faster and more comfortable movement from Milan to Ortisei, we suggest you order a helicopter transfer in our service. The flight can be carried out from the airports of Milan Malpensa and Linate, as well as from the heliport, located 30 minutes from the city.
we offer high quality service. All our pilots are with many years of experience and the highest degree of qualification.
Our company offers helicopter charter from Milan to Ortisei.
Why it is better to choose a helicopter transfer  over a car
A helicopter is not a luxury, but a means of transportation. Helicopter transfer from Milan to Ortisei will significantly reduce your travel time. The most popular helicopter flights are 300-1000 km. from Milan.Saving transfer time by about 7 times compared to traveling by car.
The average helicopter flight speed is 130 – 200 km/h. There are no traffic jams or traffic lights along the way. The entire route is a straight line.
Helicopter in Milan BELL 427
Our Bell 427 has an advanced configuration of four wings rotor element complemented by two powerful Pratt & Whitney PW207D engines. Cruise speed is about 137 kts (254 km/h).
The flight is always going smoothly as the power potential of the machine is great. Vibration-free trip in a cabin with comfortable seats and big windows in silence creates an ideal atmosphere to enjoy the beautiful views. The helicopter is ready to perform safe transportation of up to six passengers with a very high level of luxury and comfort. The technical part of the machine is extremely reliable and even if one engine fails, another one allows to complete the flight without accidents.
Equipment
Obstacles warning system
Traffic monitoring system
Crash-resistant seats for pilots and passengers
Dual-zone air conditioning system
Headsets with very clear sound and noise reduction technology
Corporate soundproofing
Technical specifications
Max speed 140 kts 259 km/h
Cruise speed 137 kts 254 km/h
Max range 351 nm 650 km
Cabin configuration 1 pilot + 6 passenger
Maximum 5 passengers and 2 pilots
Max gross weight 6.550 lbs 2.971 kg
P&W PW207D rating 2 x 710 shp 2 x 529 kW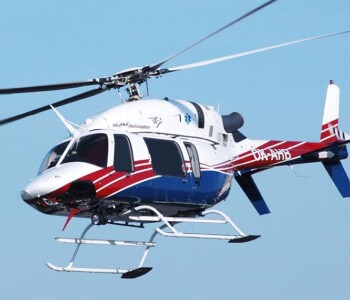 Helicopter BELL 407GX in Milan
We have Bell 407 GX. This is an amazing exemplar of a machine that combines luxury and technologies. A 4 wings rotor system with Rolls Royce 250-C47B engine guarantees a smooth flight.
High speed of 133 kts (246 km/h) allows to reach a destination point as fast as possible with zero vibrations. Good sound insulation creates comfortable conditions for passengers, and a spacious cabin makes the trip fully convenient. Large windows are available to admire amazing landscapes.
The helicopter is equipped with cutting edge systems of safety and controllability. Advanced Bell autopilot works with support of Garmin G1000H flight monitoring electronics, that, in turn, makes the flight absolutely pleasant, calm, and safe.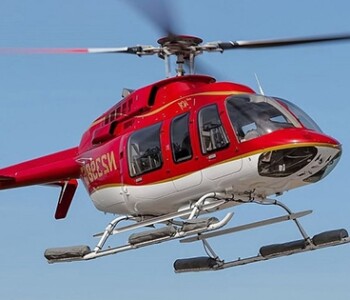 Equipment
Garmin G1000H on-board system (EFIS)
HSVT 
Obstacles warning equipment
Autopilot 
Tail built-in camera for visual control
Dual-zone air-conditioning for passengers and pilots
High-quality sound headsets with noise suppression
Corporate sound insulation
Technical specifications
Max speed 140 kts 259 km/h
Cruise speed 133 kts 246 km/h
Max range 337 nm 624 km
Service Ceiling 18.940 ft 5.733 m
Max gross weight 5.250 lbs 2.381 kg
Engine Rating 813 shp 606 kW
Maximum 1 pilot + 6 passengers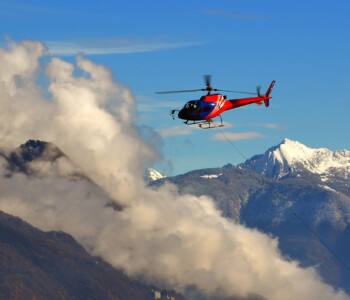 TERMS & CONDITIONS helicopter booking charter from Milan to Ortisei
Flight and Booking Policy
Booking a helicopter flight from Milan to Ortisei is necessary.
The possibility of the flight from Milan to Ortisei is determined by readiness of passengers, and the weight of the baggage as well as the weather conditions. 
Helicopter transfer from Milan to Ortisei is available to order only in accordance with Visual Flight Rules. In other words it's offered exclusively during the daylight hours.
Any planned transfer by helicopter in Milan should be confirmed before the departure by calling our office at least 24 hours in advance. Trips that weren't confirmed by the above-mentioned method can be rescheduled or even cancelled.
Weather obstacles
Due to our Cancellation Policy, can ask the client to cover additional costs related to the preparation process if such costs will be caused by the weather and the flight will be cancelled. Among the possible activities could be ground operations, extra fees for landing, and some configuration changes.
Because of attention to the safety we will postpone or cancel the flight in case of bad weather conditions. Such circumstances include poor visibility, strong winds, twilight, clouds, rain, and so on.
Our company will try to prevent the reservation of the transfer charter by the helicopter in Milan at the days that are not suitable for operating, however, there are always unpredictable situations that can happen. The client will be informed about possible delays or unexpected cancellations in advance in order to have an opportunity to find alternative transfer options.
Variants of payment
All prices related to the transfer helicopter from Milan to Ortisei usually include VAT.
It is necessary to use the valid bank card (optionally) for payments in order to pass our booking security check. Our client needs to have a done payment before the flight confirmation moment. We also accept cash, American Express ( a 4% commission), VISA, MasterCard.
Money return
We do not allow refunds for ordered services if the client takes initiative to refuse using provided by us transfer on a helicopter in Milan. Only cases described in our Policy of Cancellation may be applicable to the refund process. Additionally, the client will have an opportunity to choose the way money will be compensated. Optionally available full money return or another reservation of transfer by helicopter from Milan to Ortisei. The money can be compensated by the way it was deposited.
Requirements for the registration of the passenger
All helicopters have certain technical characteristics that allow them to operate in certain conditions. In order to ensure the high level of safety the total weight of the passengers shouldn't exceed the capacity of the lifting power of the machines. During the registration for the transfer by helicopter from Milan to Ortisei all Passengers may be asked about their exact weight.
Children on board
We can offer only two seats for children due to the technical specifications of the machine for transfer by helicopter from Milan to Ortisei. Seats for each individual should be paid regardless of age, but infants under the age of two years can fly free. We allow one baby to fly absolutely free of charge by sitting on the lap of the parent.
Elicompany will provide special equipment to ensure the safety for one baby during a transfer helicopter from Milan to Ortisei. 
Personal baggage
Elicompany allows transporting light weight items such as backpacks and handbags. For things that are significantly bigger it is necessary to get permission previously. It is strictly prohibited to try transporting any items that are dangerous or illegal and also it is impossible to transport elements that can be hazardous or may cause inconvenience to other passengers.
How far in advance do you need to book a helicopter transfer from Milan to Ortisei?
Helicopter transfer from Milan to Ortisei must be booked a couple of days before the expected date of departure. Helicopter transfer is different in that the pilot checks the helicopters before each flight. It takes time to check.
If the helicopter departs from Milan Malpensa or Linate airport, you need to book a seat for departure at the airport.
And order a helicopter landing at the destination from the air traffic controller. All this takes time. Therefore, a helicopter transfer must be booked in advance.
Insurance
We insure all our activities, including liability insurance for passengers in strict accordance to the actual European Aviation Law.
Flight Cancellation Policy
We allow changing the specifics of the flight without penalties in almost all situations within 48 hours before the departure. Our company keeps the right to cancel or postpone any transfer by helicopter charter from Milan to Ortisei in cases when weather conditions or issues that imply safety require serious attention. We also have a privilege to change the model of offered helicopters if their configuration and standards are the same, when the technical issues oblige us to do it.
We can't ignore safety and it is our priority to organise the maximum comfort and reliability of our service without any risks to our clients during transfer helicopter from Milan to Ortisei. So we can't compromise our standards.
For a booked transfer helicopter in Milan reserves the right to change the promised model of the machine if the market situation will force us to do it. In such situation client has a right to:
get back money for the transfer by a helicopter in Milan and cancel the flight;

choose the more affordable from the available variants option of transfer by helicopter from Milan to Ortisei;

choose the higher category model for transfer by helicopter in Milan by covering the difference of the actual cost.
If the cancellation of the transfer by helicopter from Milan to Ortisei is caused by the  initiative, the client won't be charged for this.
Except the case when another model of the helicopter is chosen, the client will be obliged for payment in the following situations:
20% charge of the total sum after flight confirmation;

from the 17th and to the 7th day before the departure the fee is 30%;

from the 7th day and to 72nd hour before the departure 50%;

from the 72nd and to the 24th hour 75% of the total cost;

if less than 24 hours then the 100% will be charged.
Our company will oblige the client to pay out the price of the transfer by helicopter from Milan if a person won't arrive at the specified place at the certain time in order to use the  helicopter charter  Milan-Ortisei. 
Passenger Rejection Situations
We keeps the right to terminate agreements about transfer by helicopter to Ortisei from Milan with passengers who in the opinion of the company's employees, including the opinion of the pilot, may cause a dangerous situation or unpleasant situation including offensive behaviour and direct risks to the flight safety. If such a scenario occurs, then a full charge can be applied without compensation.