Transfer Taxi from Venice to Moena
No prepayment! Cash pay! Free cancellation!
Private transfer from Venice to Moena is possible without any prepayment. In case of changes of plans a cancellation without any compensation is possible. Our prices are as affordable as it can be. We offer services at the competitive rates.
The company's fleet of vehicles for private from Venice to Moena includes a variety of models, including:
Mercedes E class;
Mercedes V class .
Mercedes Sprinter
You can book a car with a professional driver for transfer Venice — Moena via messenger or by leaving a request on the web-servise.
Cost of a transfer Venice  – Moena
| Cars Class | | | | Price € |
| --- | --- | --- | --- | --- |
| Economy Sedan | 3 | 3 | | On request |
| Economy Mercedes E Class | 3 | 3 | v | 250€ |
| Business Mercedes S Class | 3 | 3 | v | 400€ |
| Business Mercedes V Class | 7 | 7 | v | 340€ |
| Minivan Mercedes Sprinter | 10 | 11 | v | 410€ |
| Minibus Mercedes Sprinter | 16 | 16 | v | 430€ |
Information you need to provide in order to reserve a taxi to Moena from Venice
We have done all we can to make ordering a taxi from Venice to Moena as quick and easy as possible. To order a private transfer Venice — Moena, all you need to do is provide the following information:
Actual date and time of arrival in Venice;
Planned address in Moena where the customer wants to stay;
Exact number of people that need transportation;
Contact information that will be used to get in touch with the passenger;
Name of the person so that the driver can meet the client with a placard.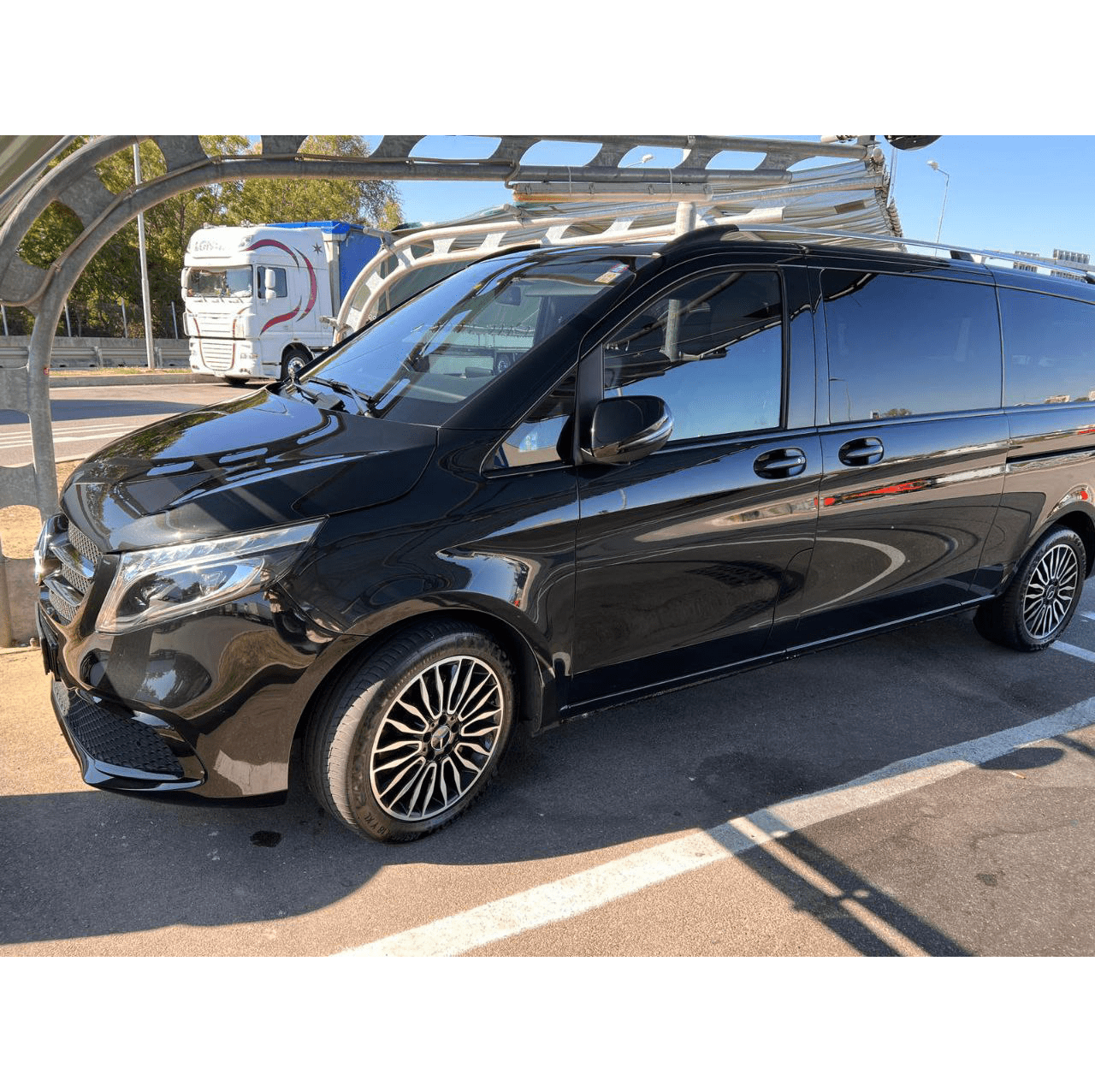 Payment for taxi from Venice to Moena
Our customers are offered a high level of service. No advance payment is required to reserve a taxi from Venice to Moena. For the client's convenience, we offer several payment methods, including cash payment. The cost of a private transfer from Venice to Moena, calculated by the company's employees, and already takes into consideration the driver's waiting time, meeting at the airport with a placard, driving through closed, toll roads and stops. We strive to ensure that our customers have a pleasant travel experience and we provide:
water
also child seats to facilitate the level of comfort.
If technically possible, WiFi is available for the customer throughout the private transfer from Venice to Moena.
Taxi from Venice to Moena
Satisfaction with a trip doesn't just depend on the resting place, the good food and the weather. Travel comfort also depends on transport. The more accessible it is, the higher a person's level of comfort is. Long and exhausting journeys from the airport to the destination can spoil the impression of the place a person arrives to, consume much time and cause unexpected expenses. The taxi company "Taxitransfermilan", offers a private taxi from Venice Treviso airport to Moena in comfortable cars. We organized the transfer Venice — Moena in such a way that the client does not waste time and can fully enjoy his/her trip, without deviations from the prepared schedule and plan.
Our drivers for transfer Venice—Moena
Only experienced and medically-inspected drivers are allowed to carrying out the private taxi from Venice to Moena. We carry out a rigorous test before hiring employees. Drivers will not break speed limits or make dangerous manoeuvres during private transfer from  Venice to Moena. The journey will be safe and relaxing.
How the private transfer from Venice to Moena is carried out
Our driver arrives at the  Venice in advance and waits for the a person who ordered the taxi from Venice to Moena with a special placard. After the meeting with the taxi driver, he will take the passenger to the car and, if necessary, will help with the luggage. If the customer needs to stop on the way, the driver will carry out the request. The transfer will takes about 2 hours 10 min.
Cancellation of the trip from Venice to Moena
Anything can happen and a planned private transfer from Venice  to Moena cancellation fee. We do not want to leave a negative impression on the client.
Unexpected situations and flight delays
Sometimes, the flight may be delayed. This is normal and our driver is prepared to wait as long as necessary for client who ordered the private transfer taxi from Venice to Moena. There is no charge for the waiting time. The driver of taxi from Venice to Moena will arrive at the airport according to the information provided by airport information desk to carrying out taxi transfer from  Venice to Moena.
What fees are charged for waiting by the driver
There are no additional waiting fees. Our driver of taxi transfer  Venice —Moena will wait for your private transfer from Venice to Moena without any extra costs.